Presidential Citation winners represent all colleges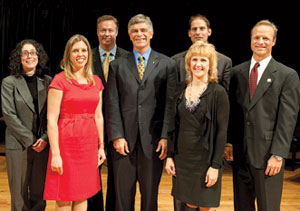 Photo by Kathy F. Atkinson
ALUMNI | The newest recipients of the University's Presidential Citation for Outstanding Achievement awards were honored during a ceremony held in the fall during Homecoming Weekend festivities.
For the first time since its inception in 1992, the Presidential Citation program recognized distinguished alumni from each of the University's seven colleges.
UD President Patrick Harker noted that fewer than 200 individuals have received the award that honors young alumni for outstanding professional achievement and public service.
"This isn't an honor meant for the many. It's meant for the exceptional, and you are," Harker told the recipients. "Your achievements are singular, but they bind you together in this very small fraternity."
While the awards represent individual achievements, Harker noted that the Presidential Citations also reflect a University that stands for the kind of idea leadership that attracts talented students and the faculty who mentor and encourage them.
"There are several measures by which a university may judge its quality, including its faculty, its support, its research or its ranking, but the measure that has to carry the most weight is the men and women whom the University graduates," Harker said. "I thank you for reflecting so well on your alma mater, both in your professional success and in your personal commitment to service. We are watching, and we can't wait to see what you do next."
The 2010 honorees are:
Katherine Boehret, AS '02, who earned her degree in political science with a concentration in journalism, is a widely read reporter covering personal technology and working in the Wall Street Journal office of columnist Walt Mossberg, whose weekly consumer technology review appears in the newspaper's print and online editions.
Laura Byham-Gray, HS '91M, whose master's degree is in food science and human nutrition, is affiliated with the School of Health Related Professions in the University of Medicine and Dentistry of New Jersey, where she is an associate professor directing the master's degree program in clinical nutrition.
Natalie Durrett Crawford, AG '00, who received a bachelor's degree in animal science, is a veterinary anatomic pathologist who has spent the last two years as an associate anatomic pathologist at Covance Laboratories Inc. Her work has been published in Veterinary Clinical Pathology and The Journal of Veterinary Internal Medicine.
Colmcille DeAscanis, EG '96, who earned his degree in civil and environmental engineering, serves as president and chief executive officer of CDA Engineering. He also has established a scholarship to assist students in the College of Engineering.
David Elkins, BE '91, who received a bachelor's degree in economics, is executive vice president and chief financial officer of Becton Dickinson Co., where he is responsible for executive management and oversight of the company's global financial operations.
Perri Freeman, EH '93, who earned her degree in educational studies and English in 1993, is vice president of marketing and communications for the J.P. Morgan Investment Bank. She also serves on the board for the International YMCA of Greater New York.
Nicholas Vrolijk, EO '88M, '92PhD, whose graduate degrees are in marine studies, is vice president for manufacturing operations at Celenge Corp., where he is responsible for technical operations and the successful commercial launch of Istodax, a non-Hodgkins lymphoma drug.
Article by Jerry Rhodes, AS '04