Former campaign strategist now top Obama adviser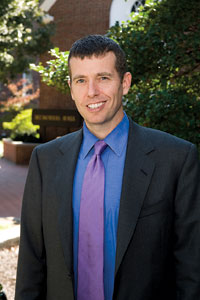 ALUMNI | David Plouffe, a UD alumnus who managed Barack Obama's historic 2008 presidential campaign, recently assumed a new role in the White House as Obama's senior adviser. He replaces David Axelrod, who returned to Chicago at the end of January to lead the president's re-election efforts.
Plouffe, AS '89, a political science major who left the University before graduation to work on a Delaware political campaign, also has served as a senior fellow of UD's Center for Political Communication, a position he resigned to join the Obama administration early this year. Another senior fellow of the center, who remains in that position, is Steve Schmidt, AS '93, who led Sen. John McCain's 2008 presidential campaign.
In a January article in New York magazine, headlined "The West Wing, Season II," John Heilemann describes Obama's staff changes and his efforts to "hit the reset button" halfway through his first term in office, particularly in light of the sweeping Republican successes in the midterm elections.
"At the center of that process will be Plouffe," Heilemann writes, calling the new top adviser "calm, cool and relentlessly collected." The article cites numerous political insiders who praise Plouffe's strategic and organizational style that is widely credited for Obama's 2008 victory.
After that campaign, Plouffe took a break from Washington to spend time with his family in Chicago, where he and his wife have two young children, including one born shortly after Election Day 2008. But, Heilemann notes, he always told Obama he would return to work for him if needed.