His concern for patients' well-being is no act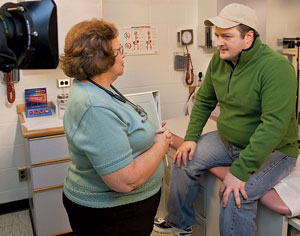 Photo by Evan Krape
ALUMNI | When Kyle Phillips, HS '04, returned to campus to visit the School of Nursing in December, he was one angry patient.
Make that Angry Patient—a character in a series of short instructional videos that Phillips and Cynthia Diefenbeck, assistant professor of nursing, wrote together for production and sale by the F.A. Davis Co., a Philadelphia-based medical publisher. The videos were filmed on campus in McDowell Hall during four days in mid-December, with UD students from the Department of Theatre playing most of the roles.
For Phillips, the project was a perfect fit for his education, interests and talents. His first undergraduate degree was in theatre, which he received in 1997 from the State University of New York (SUNY) at Purchase, and he worked as an actor for several years before returning to school to earn a bachelor's degree in nursing through UD's accelerated program.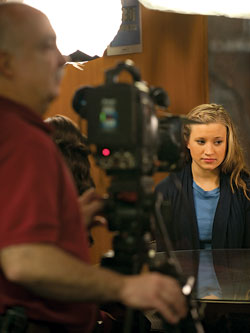 Photo by Evan Krape
"Cynthia called me about the project, because she knew my background and thought it would be right up my alley," says Phillips, a registered nurse who now works as a case manager for a health-care services company. "When I heard what it was about, I was terribly excited to get involved."
After co-writing the scripts, he says, he couldn't resist the opportunity to act in some of the scenes as well. He played a couple of different patients and such health-care professionals as a nurse and a physical therapist.
The project produced an interactive, two-part, student and instructor DVD package demonstrating the kinds of interpersonal skills that health-care professionals will find helpful in their work. The scenarios depict a variety of basic communication skills, including active listening, reflection, silence, humor and empathy, and a range of health-care clients in emotional states from angry and anxious to delusional and depressed.
Phillips says all those involved in the project, which was conceptualized by Betty Paulanka, professor emeritus and former dean of the College of Health Sciences, were especially committed to making the scripts and the videos realistic and current. They worked to portray the kinds of situations that nurses and other professionals are likely to face in today's workplaces and to emphasize the critical importance of communicating with patients, he says.
"When I'm working, I've noticed that some people are good at talking with patients, and some people aren't," Phillips says. "It's a wall that some people need help to get over, and that's what we're trying to do."
Phillips says the experience of script-writing and acting was a rewarding way to return, even if temporarily, to his love of theatre. After graduating from SUNY in 1997, he moved to New York City to pursue an acting career and had some success, including starting an improv group.
The group was doing well, he says, but when his mother became ill, he decided he wanted to learn more about both the nature of her illness and how to care for her. UD's accelerated nursing program, for students who already have a bachelor's degree in a different field, was a great path for him, he says.
He worked in cardiovascular care and then in psychiatric nursing, and he says he drew on those experiences in writing the scenarios and also in creating the characters whose roles he played. He has high praise for UD's theatre department.
"The theatre students performing in the videos were terrific, and Allan [Carlsen, assistant professor of theatre] did great work with all the actors," Phillips says. "He really helped them get into the characters and perform very professionally. That's what makes the videos as realistic as they can possibly be."
Article by Ann Manser, AS '73, and Diane Kukich, AS '73, '84M