Art historian has passion for teaching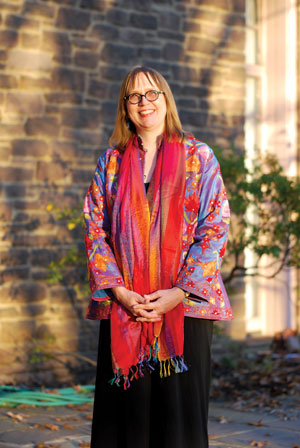 ALUMNI | An art historian who earned her master's and doctoral degrees at UD has been chosen from among 300 top faculty members across the United States as Pennsylvania's 2010 Professor of the Year.
Roberta Mayer, AS '96M, '00PhD, an associate professor at Bucks County Community College, received the award from the Carnegie Foundation for the Advancement of Teaching and the Council for Advancement and Support of Education. A full-time faculty member since 2001, she teaches classes in subjects including American art history and the history of American furniture and also is head of the Visual Arts Area in the college's Department of the Arts.
"One of the things I bring to the award is modeling a level of professionalism," she says. "Not only am I passionate about teaching, I've also written articles in peer-reviewed publications and lectured about art history."
Her most recent book is Lockwood de Forest: Furnishing the Gilded Age With a Passion for India, published in 2008 by the University of Delaware Press. Mayer supplements her classroom teaching with online courses, which she says enable her to reach students in their homes.
Student Matthew Metcalf describes Mayer as one of the best teachers he's had.
"The atmosphere of learning she creates, the way she uses technology, the way she breaks down difficult or abstract topics into ideas you can understand—you can't help but to learn the material," he says. "She's a role model for all educators."