Making a difference in young lives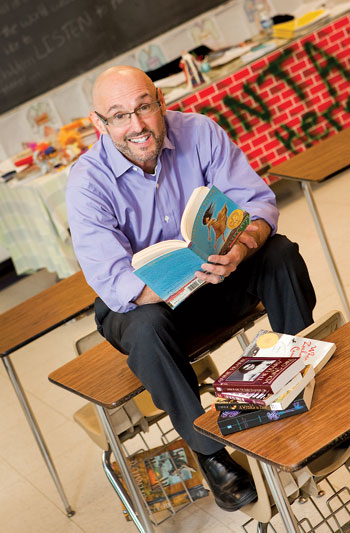 Photo by Ambre Alexander
ALUMNI | Joseph Masiello considers himself fortunate—not for the recognition he recently received as Delaware's 2011 Teacher of the Year but for the work he does every day in his classroom.
"Teaching is one of the few careers that allow you to make a difference in the lives of young children," says Masiello, EH '82, a sixth-grade English teacher at Cab Calloway School of the Arts in Wilmington. "It is a blessing to be able to wake up each morning with a new chance to change the world."
Early in the 2010-11 school year, he was named teacher of the year for the Red Clay Consolidated School District, joining 18 other Delaware educators who earned their district's top honor. The 19 finalists, selected from among nearly 8,800 schoolteachers statewide, were then assessed by a Delaware Department of Education panel, which on Oct. 26 awarded the title to Masiello.
Cab Calloway Dean Julie Rumschlag has described Masiello as "dedicated to his profession" and says the lessons he teaches in his classroom are "creative, challenging, imaginative, engaging and diverse."
The state Teacher of the Year represents Delaware in a national contest, whose winner will be announced this spring, and also addresses community groups, business leaders, legislators and educational organizations on topics related to Delaware schools.
An educator for more than 26 years in the First State, Masiello joined the brand-new Cab Calloway School of the Arts in 1992. He visited every elementary school in the district to help market the new magnet school, where he has now taught for 17 years.
"It is important to me that my students realize that they are a part of a community, not just a person in a class of 27 students," Masiello says. "I believe it is my responsibility to provide my students with opportunities to interact with their surrounding community through many service-related activities."
Sally McBride, co-founder of the Cab Calloway school, finds the statewide honor well-deserved.
"I have never met a student who did not adore Joe Masiello," she says. "He represents the best in education and exemplifies the best in teaching. A teacher, besides communicating the material, should motivate, inspire and create an environment that makes the student an active participant in his learning. Joe achieves all of this, while making learning fun."
Masiello succeeds Delaware's 2010 Teacher of the Year Mary Pinkston, a mathematics teacher at Brandywine High School. Pinkston, AS '91, EH '95M, earned her undergraduate degree in secondary mathematics education and her master's degree in education curriculum and instruction.