Chef takes the cake in TV baking contest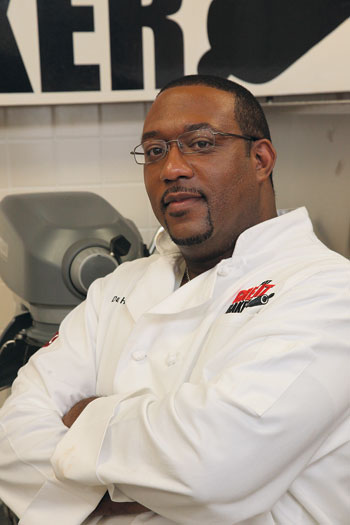 Photo courtesy of TLC network
ALUMNI | Life just got a little sweeter for Dana Herbert, BE '98. In January, the Department of Hotel, Restaurant and Institutional Management alumnus, whose work as a pastry chef earned him the nickname "Sugar Daddy," was named the winner of the TLC reality show Next Great Baker.
Herbert, owner of Desserts by Dana and head chef for the Delaware River and Bay Authority, won the title over two other finalists. The prize? A car, $50,000 and the chance to work with Buddy Valastro, head judge of Next Great Baker and star of the popular TLC show Cake Boss.
While Herbert and his fellow finalists were waiting to hear who had won the competition, during the show's finale that first aired Jan. 24, he says he wasn't taking anything for granted.
"When it came down to Megan and me, I knew that she had just as good of a chance at winning as I did, so I was so relieved when Buddy announced my name as the winner," he says.
Herbert was initially chosen as one of 10 contestants on the show. Each week, he made it through progressively difficult challenges designed by Valastro to test the contestants' business sense and cake artistry.
He says his experience on Next Great Baker has given him insight into not only the baking business but also the value of working with others.
"The greatest lesson I learned from my fellow contestants was teamwork," Herbert says. "Allow them to shine with their God-given gifts, and the team will go further. Be unselfish in your pursuit of excellence."
Herbert also learned that running a business means being part entrepreneur, part artist:
"You have to not only be able to make great things but also sell it well. You have to be multi-pronged."
Although he says he was excited about the opportunity to work at Valastro's family business, Carlo's Bakery of Hoboken, N.J., Herbert will remain in Delaware.
"I am working there part-time, but since I have my own bakery established here in Delaware …, it was too difficult right now to move permanently to Carlo's Bakery," he says. Another consideration was that, at the time the contest ended, he and his wife were awaiting the birth of their first child.
And as for the prize money, Herbert plans on putting it aside for his daughter's education.
The $50,000 was not the only cash prize he won on the show. His team won a Christmas cake challenge in one of the earlier episodes. Since Herbert was a big contributor to the win, Valastro offered him the entire $10,000 prize.
Herbert respectfully declined, though, and in a gesture that showed his belief in the importance of teamwork he opted to share the win with his team.
"Of course it was tempting to keep it!" he says. "But I knew my teammates deserved the prize money as much as I did, and it only felt right splitting it with them."
Herbert, known around Delaware for his specialty cakes and elaborate sugar sculptures, has remained connected to UD over the years and has shared his expertise with the campus community. Most recently, at last year's Reunion Weekend (now called Alumni Weekend), he led two sold-out demonstrations of his sugar-sculpting skills.
Article by Kathryn A. Marrone, AS '04, BE '06M