Blue Hens gather to watch and cheer on their team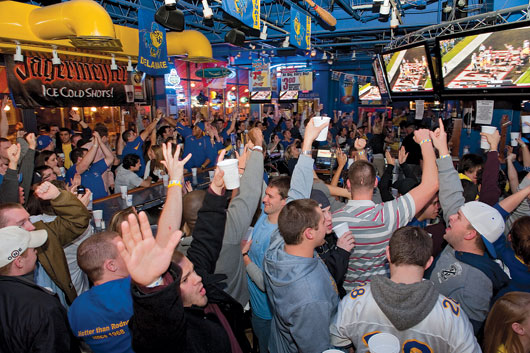 Photo by Evan Krape
ALUMNI | With UD football receiving unprecedented television coverage during the team's run in the Football Championship Subdivision (FCS) playoffs last fall and winter, Blue Hens across the country gathered to celebrate and cheer for their alma mater.
Over four playoff games in 34 days, more than 2,500 alumni and friends attended 46 watch parties in 19 states and Washington, D.C. In addition, thousands of Blue Hens traveled to Frisco, Texas, for the national championship game Jan 7.
"The alumni clubs did a great job organizing their watch parties, but that was no surprise as they can always be counted upon for great work and great support," says Cindy Campanella '84, director of alumni relations. "The real surprise was the number of individuals who reached out to our office and basically organized an event all by themselves in places where UD has no established presence."
Some of the alumni and students who organized their own parties: Barbara Bell '70, Enrico Botto '96, Jim O'Brien '76, Lethe Burns '96, Greg Burton '92, Gary Camp '99, Matthew Castano '91, Gary Cannon '86, Janine Corcoran '96, Ryan Donnelly '03, Laura Doughty '97, Jennifer Evans '04, Mike Fox '05, Rich Garrahan '00, Kristen Halvorsen Hamilton '91, Brett Hensley '07, Lauren Hornyak '06 and Jeff Kravis '76;
Also: Denise Lasher '77, Elizabeth Reister '90, Danielle Mauz '06, Suzanne McCaddin '98, Patty McClain '04, Ron Morgan '69, Lee Moses '02, Matt Myers '02, Ken Nelson '01, Taylor Nevins '13, Chris Pickering '89, Lauren Sammerson '98, Dan Sayin '84, Jamie Schmalenberger '06, Jake Schmalenberger '06, Matt Semic '02, Mark Strazzer '08, Nick Tennant '07, Jean Tordella '69, Pablo Trucco '87, Paula Uhrin '90 and Tony Wilbert '88.
Karen Slachetka '05, special events chair of the Washington, D.C., Alumni Club, said that the watch parties there stirred up pride among area Blue Hens.
"The atmosphere at our game watches this season was amazing—so many excited people, cheering when Joe Biden came on the screen or a good catch was made," she says. "For the championship game, we had more alumni than I even knew lived in the D.C. area, and it was absolutely incredible."
Jamie Schmalenberger '06 said she and her husband, Jake '06, organized a watch party in Orlando, Fla., as a way of connecting with other alumni.
"We searched for a central Florida UD alumni group, but there currently isn't one," she says. "When we received the opportunity to organize the watch party, we thought it would be a great start to locating other central Florida UD alumni and getting us all together."
During the championship game, she says, "There was a lot of conversation between the Blue Hens of all ages and graduation years—a lot of story-sharing and reminiscing, a lot of cheering and then, sadly, a lot of tears. But, despite the outcome of the game, everyone agreed that they had a great time and hope to be able to get together again soon."
Barbara Bell '70 organized the Las Vegas Watch Party and at first feared that few Blue Hens would show up.
"But when I saw someone in the parking lot coming in with a UD flag, I knew we would be having a great time!" she says.
To read more about the football playoffs, see "Hens advance to championship game."