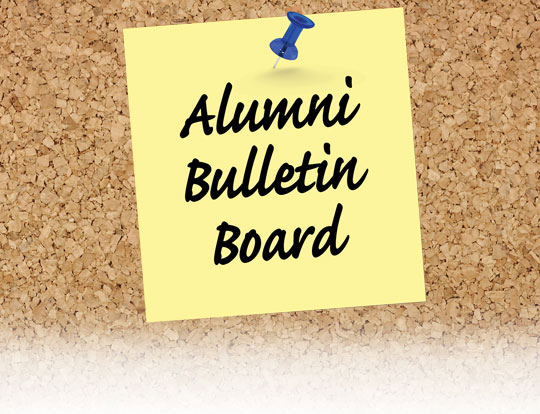 New staff members to assist regional clubs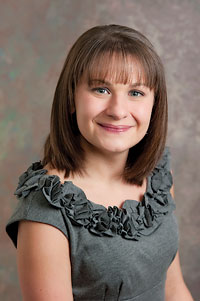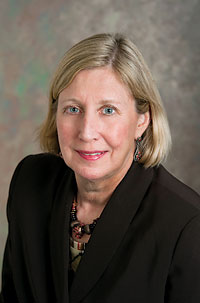 With the Office of Alumni Relations busy with preparations for this year's Alumni Weekend, June 3-5, two new members have joined the team, contributing to an expansion and enhancement of the programs, benefits and opportunities offered to all Blue Hens.
Joining the staff in Alumni Hall are Stefanie Spatola, BE '06, and Leslie Lundgaard. Both are regional alumni club coordinators and will work primarily with the alumni clubs across the country.
Spatola started her work with Alumni Relations in 2008 as the special events chair of the Philadelphia Alumni Club. Hired by the office in July 2010, she worked in a temporary capacity until this past January. Working with the regional alumni clubs in various capacities, she frequently attended alumni events in the Philadelphia region and helped clubs around the nation organize events.
Lundgaard worked in a temporary capacity for the Office of Alumni Relations from March 2010 until January, when she was promoted to a full-time position. Before joining UD, she was the owner and president of Bravo Events, an events management and special projects resource. Lundgaard has a degree in public administration from the University of Arizona.
Association honors outstanding alumni, spirited student ambassador
Two alumni and a current student were honored by the UD Alumni Association (UDAA) during Homecoming festivities in the fall.
Vance Funk, BE '65, and John Gooden, EG '88, received the 2010 UDAA Outstanding Alumni Award. The annual award is given to UD alumni who have exhibited exceptional volunteer work on behalf of the University and/or the alumni association.
Christa Cariddi, a senior visual communications major, received the T. Muncy Keith Spirit Award, a scholarship presented by the UDAA to a student Alumni Ambassador who has made or has the potential to make the greatest contribution to the organization. Student Alumni Ambassadors encourage school spirit, foster connections between alumni and students, support the Office of Alumni Relations, serve as a student advisory board to the University community and aspire to be active UD alumni upon graduation.
Getting involved by nominating or volunteering
The Office of Alumni Relations is accepting nominations for awards and seeking volunteers for alumni clubs. More detailed information, a list of past award recipients and applications can be found on the Alumni Relations website at www.UDconnection.com. To nominate a Blue Hen for an award or a leadership role, visit www.UDconnection.com/nominate.
The Presidential Citation for Outstanding Achievement honors UD graduates of the last 20 years who exhibit great promise in their professional career and/or public service activities, with awards presented at Homecoming weekend. Deadline for nominations is June 15, 2011.
Outstanding Alumni Awards honor those who exhibit exceptional volunteer work on behalf of the University and/or the UD Alumni Association and are presented annually at Homecoming. Deadline for nominations is June 15, 2011.
Get involved with an alumni club or group. If you are interested in volunteering for an alumni club or organizing an affinity group, let the Alumni Relations office know. Visit www.UDconnection.com/clubs for information on regional alumni clubs. In particular, clubs in Lehigh Valley, Pittsburgh, Los Angeles, San Francisco Bay Area, Houston, Dallas, Jacksonville, Miami/Ft. Lauderdale, Orlando, Tampa Bay Area, Richmond, Hampton Roads Area, North Carolina Triangle Area and Charlotte are looking for a few good Blue Hens to help lead and assist alumni efforts. There also are opportunities to get involved in Philadelphia, New Castle County, Kent County, Sussex County, Northern New Jersey, Southeastern Pennsylvania (Harrisburg, Lancaster, Reading and York) and New York City.
Class reunion volunteers are needed as the classes of 2007, 2002, 1997, 1992, 1987 and 1962 will be celebrating their milestone reunions during Alumni Weekend 2012. Planning for the class reunion celebrations will be starting soon, so volunteer to be on your class committee. If you want to help plan your reunion, email ud-reunions@udel.edu.
Save the date for lots of fun events this spring, summer
Regional alumni clubs around the U.S. are always planning special events. Following is just a partial list; for updates and to register online to attend an activity, visit www.UDconnection.com/events. For information about a club in your area, visit www.UDconnection.com/clubs.
Saturday, April 23
New Castle County Alumni Club,
5K Run and Walk, Ronald McDonald House
Wednesday, April 27
Lancaster Alumni Club,
Monthly Happy Hour, Iron Hill Brewery
Saturday, April 30
Lancaster Alumni Club,
Race Against Racism 5K Run and Walk
Friday, May 6
New Castle County Alumni Club,
Employee/Staff Alumni Theatre event
Saturday, May 7
Philadelphia Alumni Club,
tent at the Dad Vail Regatta
Wednesday, May 25
Lancaster Alumni Club,
Happy Hour, Iron Hill
Thursday, June 9
Chicago Alumni Club,
Downtown Happy Hour
Saturday, June 25
Baltimore Alumni Club,
"Send off" for the Class of 2015
Wednesday, June 29
Lancaster Alumni Club,
Happy Hour, Iron Hill
Saturday, July 16
UD Dewey Day in Sussex County, Del.
And, keep in touch for more information about other coming events still being finalized. They include: In August, a Lancaster Alumni Club "Send off" for the Class of 2015; the Fourth Semiannual Coastal Cleanup in Sussex County, Del.; Bowling with Blue Hens and Families in Chicago; Professional Networking event in New York City; "Welcome to the City" for the Class of 2011 in Washington, D.C.; and an Urban Pirate Cruise in Baltimore's Inner Harbor.
Special thanks go to the UD Alumni Association for providing funding for club events.
Delagates needed to lead the way at Commencement
It is a tradition at the University that, as part of Commencement exercises, two alumni from each class march in the procession honoring the graduating class.
The next alumni delegates will follow the Class of 2011 into Delaware Stadium and will be seated on the field near the stage. Being a Commencement Delegate is a great way to celebrate the achievements of the graduating class, and often the delegates are family members of grads. In fact, it is common for three generations of Blue Hens to walk at Commencement.
Names of alumni delegates are printed in the Commencement program, and each delegate and a guest are invited to a reception before the ceremony. Commencement will be held Saturday, May 28.
If you are interested in serving as an alumni Commencement delegate, contact the Office of Alumni Relations at UD-delegates@udel.edu or (302) 831-2341.