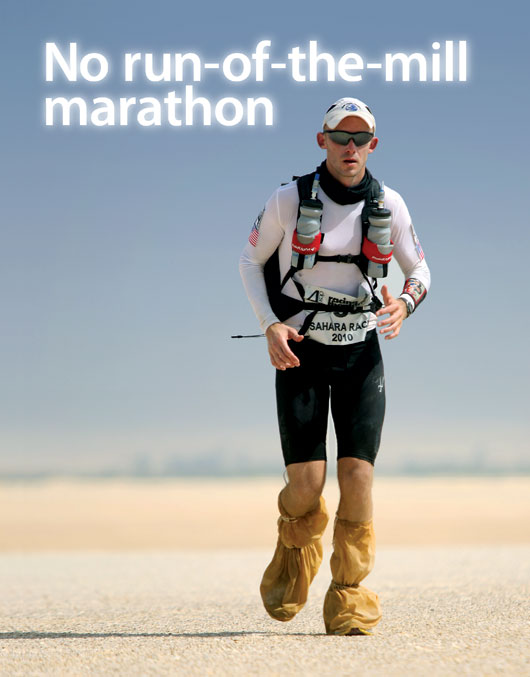 Photos copyright RacingThePlanet Ltd. Photographer: Zandy Mangold
ALUMNI | It didn't take Bennett long to come up with the answer after he had finished the race: "Much of long-distance running has absolutely nothing to do with running," he says, "and everything to do with breaking down invisible barriers for yourself."
It took Bennett, BE '04, just over 27 hours to complete the six-stage event, wearing knee-high booties to keep the sand out of his shoes and carrying a 20-pound backpack filled with freeze-dried food, Band-Aids, a headlamp and everything else he needed for a week in a punishing environment.
The feat was roughly the equivalent of a marathon a day for four days in a row, followed by two consecutive marathons on the fifth day.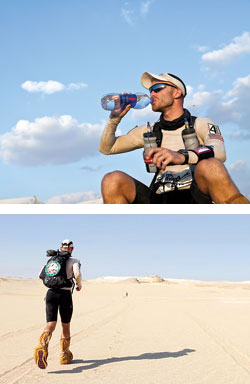 Although Bennett had been running competitively for only three years and had never run more than 26 miles at once, he placed second, just 38 minutes behind the winner. A press release issued after the race referred to his performance as "remarkable for his first rough-country endurance event."
The toughest parts of the race—like Bennett's reasons for doing it—had little to do with running.
"It was the intangibles, like waking up with sand in your ears and your mouth, never getting a drink of really cold water and not being able to get away from the relentless sun, that were the worst for me," he says. "Trying to stay upbeat and soldier on for six days under those conditions was a challenge."
Bennett ran the Sahara in memory of his mother, who died of breast cancer at age 52 when Ryan was a junior at UD. He raised more than $2,500 for Memorial Sloan-Kettering Cancer Center in New York.
Bennett became hooked on the energy and inspiration that the running community provides when he ran his first marathon in 2007. Running, he says, motivated him to start Fab For Life, a nonprofit organization that provides scholarships for special education students. It also prompted him to start his own small business, Heart On My Arm, which makes moisture-wicking armbands to hold photos or motivational quotes.
"Running gives many people the feeling that they can accomplish great things," Bennett says, "and it has done the same for me. After I completed the Sahara event, I felt that if I could do this race across the desert, I could do lots of other things that seemed difficult or impossible. Whether it's athletics or arts or music—whatever your passion is—do it and you'll find that it translates into other areas of your life."
Beyond the life lessons he gained from fighting sand and sun for six days, Bennett treasures his memories of the people he met in the Sahara. "They came from all over the world, and they all had stories about the amazing things they've done. It was very humbling to talk with them," he says.
His involvement with Heart On My Arm has also brought Bennett in touch with people and their stories, and the wristbands have already traveled to several continents, including Antarctica. Many people who have bought the bands have shared their stories on the company's Facebook page, and Bennett himself used the site to invite others to submit pictures and stories to put in his band for the desert run.
Currently a marketing manager for Marriott International in New York, Bennett credits UD with giving him the foundation for his career as well as the knowledge needed to start a small business. He has kept in close touch with the University in hiring graduates of the Hotel, Restaurant and Institutional Management program.
"The most important thing I learned at the University is the power of the people around you and your network," Bennett says. "I'm smart enough to realize that I'm not that smart, and I need a lot of help. The team-building exercises we did at UD taught me that everyone brings something different to the table."
One of the questions Bennett is often asked is whether he will ever do another extreme event.
He admits that during the race, all he could think about was how crazy the whole thing was. But before his feet had even cooled off on Day 6, Bennett and his tent mates started throwing out ideas for their next adventure:
Anyone up for the Racing the Planet 250km Nepal Race next November? How about the 430-mile Yukon Arctic Ultra across Western Canada in 2013?
Article by Diane Kukich, AS '73, '84M