Social entrepreneur honored for 'citizen diplomacy'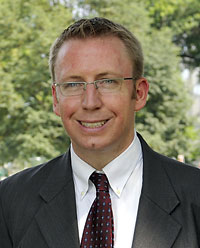 ALUMNI | Scott Beale, AS '08M, has been named one of seven recipients of the 2010 National Awards for Citizen Diplomacy by the U.S. Center for Citizen Diplomacy.
Honorees are recognized for their work to increase American citizen engagement in international affairs and their contributions in fostering cross-cultural understanding. Other 2010 winners included the Oscar-winning actor, environmental activist, film director and Sundance Institute founder Robert Redford and Judith Jamison, who is artistic director of the renowned Alvin Ailey American Dance Theater.
Beale, who earned a master of public administration degree from UD, was honored for his work as founder and CEO of Atlas Service Corps, an international exchange organization that that brings highly skilled professionals to the United States for a year to assist nonprofits here.
"I am proud to be honored as a Citizen Diplomat and hope this award will put a spotlight on the Atlas Corps Fellowship and highlight how important it is that we serve side by side with people from around the world to address critical social issues," Beale says.
"Everyone, in the U.S. and around the world, has the capacity and the opportunity to make the world a better place by building bridges across cultures and countries and pursuing our common aspiration to create a world with a cleaner environment, more social justice, less hunger and poverty and free from disease and war."