When reading isn't as easy as ABC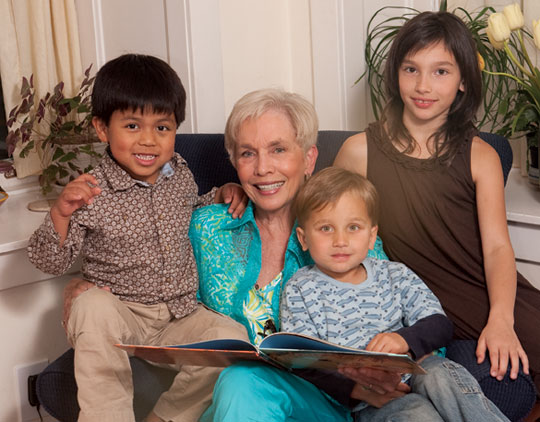 Photo by Ambre Alexander
ALUMNI | Shortly after 9 on a weekday morning in a modest office in Wilmington, Del., the phone rings. The office manager answers it cheerfully and settles back in her chair. It is going to take a while.
She listens carefully to a mother describe how her child is struggling. She has heard this story many times. The details vary, but there's a common thread. A child of sound intelligence, with a supportive family, hasn't learned to read and is failing in school. Someone has suggested she call Reading ASSIST Institute (RAI), and the mother has finally found the courage to make the call that may transform her child's life.
Thirty years ago, the same kinds of phone calls were being made, but not to a vibrant organization. They were coming to my home in North Wilmington. The word had gotten out that I was having success teaching children who had failed to learn to read through traditional instruction.
Desperate parents called from early morning to late at night. Some wanted to hire me to tutor their child. Others just wanted advice. All sought a solution to their child's failure to learn to read and write. As they poured out their hearts, mine ached.
My tutoring schedule was full. What could one person do?
It was through my own son Andrew's struggle to learn to read that I was led to the Orton-Gillingham methodology of multisensory structured language instruction. During Andrew's first seven years in elementary school (two years in first grade), he didn't read. Every day, his failures reinforced his frustration and negative self-image. During this time, my husband and I searched for answers. We tried physical exercises, behavior modification, constant tutoring, reading clinics, Ritalin, developmental lens eyeglasses and the Feingold diet.
Nothing worked.
In l978, a Philadelphia psychologist recommended the Jemicy School in Baltimore. It appeared to be Andrew's last chance. Over the summer between his sixth and seventh grade, we made the decision to send Andrew to Jemicy.
The relief for our family was enormous, but I was still the person on the receiving end of phone calls from scared and frustrated parents. We were blessed that our son had the teaching he needed in order to learn to read, but what about the other children who didn't have Jemicy?
I decided to go back to school to learn all I could about the multisensory, structured language approach that was working for Andrew.
I attended classes at Villanova, Johns Hopkins University and the Dyslexia Institute of London, learning how to take the language apart, to unlock the sounds and syllables that would make words readable. In the fall of 1979, I created a simple step-by-step manual that five volunteers used to teach reading to four sixth-grade boys. One boy jumped four grade levels in five months and the following year was taken out of special education classes. All made significant progress.
Thirty years ago, multisensory, structured language instruction was limited to private schools and trained therapists. The Orton Dyslexia Society was the hub that connected those who used this methodology, and once a year the society hosted a national conference. Those who attended were knowledgeable and confident, but there were few teaching materials available.
It became clear to me that the simple manual I had written for volunteers was not good enough for the teachers who were beginning to follow the path of volunteers. I wanted their instructional materials to be of professional caliber, so I began to rewrite them. During the same time, I incorporated Reading ASSIST Institute as a nonprofit organization.
Over the past 20 years, there have been many changes in the field of reading instruction. When children's standardized test scores in reading plummeted throughout the country, parents and teachers demanded more effective reading instructional tools. As an emphasis on "research-based" instruction emerged, RAI grew exponentially.
Today, thousands of teachers attend conferences sponsored by the International Dyslexia Association. The depth of knowledge that is shared is extraordinary, and the professionalism of the teaching materials is exceptional. Reading ASSIST often presents workshops and materials at these conferences.
Today, RAI trains teachers and volunteers from the tri-state area to help all of their students become proficient in reading. In 2009, it trained 453 teachers and 56 volunteers, supervised 43 volunteer tutoring teams and provided private tutors to schools and families who chose that option.
And today, when a worried parent or teacher reaches out for help, the phone rings at Reading ASSIST Institute. The baton has been passed.
Editor's note
This article continues a UD Messenger series called "First Person," in which graduates share their professional or personal expertise on topics that are as diverse as our talented alumni. If you have advice to share or a story to tell, please send a one- or two-sentence description of what you'd like to write about to TheMessenger@udel.edu, and put "first person" in the subject line.