Computer class designs games that teach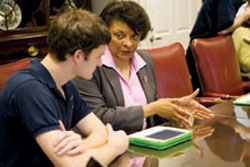 ON THE GREEN | Computer science majors Aaron Reynolds and William Friedman stood beaming beside a tiny laptop computer. Its screen asked for the user's name in a box superimposed on the iconic image of George Washington crossing the Delaware River. Supplying one's name is no easy task for adults, as the keys on the neon green and white machine are so close together anyone with hands larger than a child's would have trouble.
But then, children are the consumers of this computer and the games that Reynolds, Friedman and their classmates created for the XO laptops, computers popularized by the One Laptop Per Child program.
During fall semester, 20 students enrolled in a Computer and Information Sciences course wrote XO laptop games customized for students at Chester (Pa.) Community Charter School, where every student in grades three through eight is provided with an XO laptop. The UD class is a service-learning course, focused on helping undergraduates develop real-world skills while performing community service
The Chester school works to empower students, who live in an area that has been in decline over the last 30 years, with high poverty and unemployment rates.
The class paired UD students with four teachers at the charter school and tasked them with creating a game each teacher could use in the classroom. Reynolds and Friedman were part of a group that collaborated with an eighth-grade history teacher who wanted to integrate his students' computers into class work.
"It keeps the kids interested and gives them something new to do, that they're probably looking forward to," Friedman says.