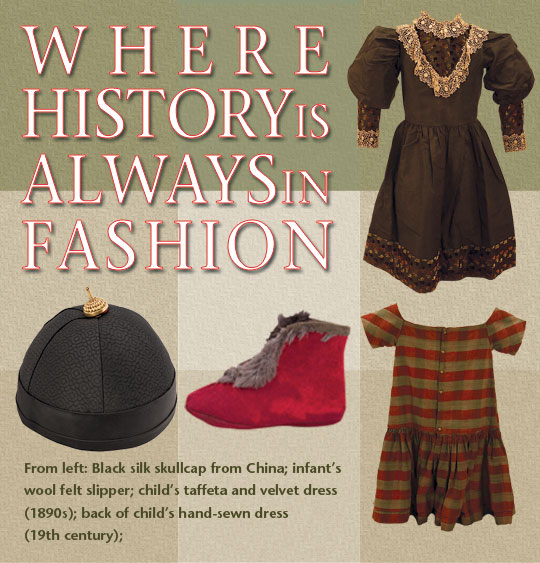 The Historic Costume and Textile Collection has been one of the best-kept secrets at UD for nearly 40 years, but Dilia López-Gydosh is hoping to change that.
López-Gydosh, assistant professor of fashion and apparel studies who co-manages the collection with Prof. Belinda Orzada, describes it as a treasure trove that provides a fascinating look at the aesthetics, values and technology of past generations.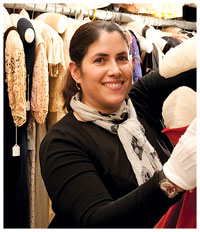 "It's a world full of different people out there, but one thing we all have in common is that we all wear some type of clothing," López-Gydosh says as she points to a set of beautiful Japanese kimonos recently donated by Betty Fiske, AS '83M.
The collection serves as a valuable educational resource, not only for fashion design and merchandising students, but also for students in art conservation, history, museum studies and journalism, whose research is aided by a searchable computer database.
"I love working with student volunteers from our department and elsewhere on campus who have found a passion for the history of apparel," López-Gydosh says. "The other really exciting part for me is that the garments often come with some amazing stories."
Items from the collection are usually on display on the second floor of Alison Hall West. A recent exhibit organized by five honors students from López-Gydosh's Fashion, Style and Culture class was inspired by the critically acclaimed television series Mad Men, set in the early 1960s.
Past exhibits have included a selection of striking red dresses displayed in conjunction with the American Heart Association's Red Dress campaign to call attention to women's heart health issues, designs influenced by classical Greek and Roman culture, mod fashions of the 1960s and wedding attire spanning more than two centuries.
"We would really love to have some more prominent display space, but we do have to be concerned with the preservation of the collection," López-Gydosh says, adding that strong light and extremes of temperature and humidity can damage textiles. She and Orzada recently received a $6,000 grant from the National Endowment for the Humanities to improve the storage and display areas.
López-Gydosh is planning special displays and activities for Forum & Reunion Weekend, June 4-6. UD blazers will be on display in Hullihen Hall on Saturday morning. Also, the collection workroom in Alison Hall West, Room 215, will be open on Saturday afternoon from 1-4, when faculty and students will be on hand to show and discuss pieces from the collection and explain how to care for family textile heirlooms.
"We are always looking for items to add to the collection," López-Gydosh says, noting that she would particularly like more footwear and famous-name designers as well as ethnic pieces from around the world. "And we would love to have more donations from UD alumni."
Photos by Ambre Alexander and Kathy F. Atkinson