Garden State governor has roots at UD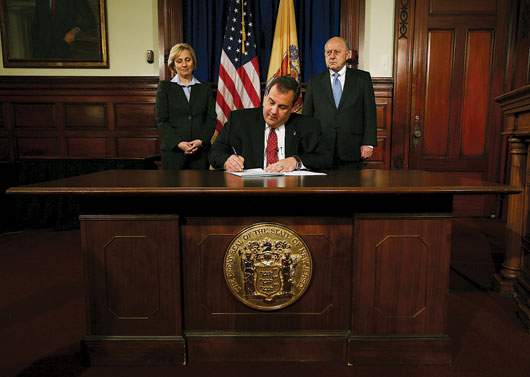 Governor photos/Tim Larsen
ALUMNI | If you're looking for New Jersey's newest governor on Saturdays this fall, you might want to look in an unexpected place—one of the boxes near the field at Delaware Stadium.
That's where Christopher J. Christie, his wife, Mary Pat, BE '85, and friends have held season tickets and cheered on Blue Hen football teams for more than 20 years.
Christie, AS '84, was lauded as the quintessential Jersey guy as the Republican successfully ran for the governor's seat last November. With a plainspoken bluntness he sometimes used for humorous effect, he upended incumbent Democratic Gov. Jon S. Corzine, even after being outspent by $12 million.
In a state where Democrats outnumber Republicans by more than 700,000 voters, Christie became the Garden State's first elected Republican chief executive since Gov. Christie Whitman returned to office in 1997.
And even though Christie celebrated with a Jersey-themed inauguration, his roots to the First State also run deep.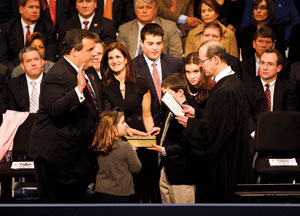 Governor photos/Tim Larsen
In late January Christie, in shirtsleeves, leaned back in his chair in the stripped-bare governor's outer office in the state capitol in Trenton. He had been in office for just days. "We're working to bring in some stuff this week to make it look like my office and not like one where I happen to be," he said with a laugh.
When he served as New Jersey's crime-busting U.S. Attorney for seven years, he surrounded himself with Delaware memorabilia: his diploma decorated his office, along with a bobble-head doll of football coach K.C. Keeler and a framed photo of himself and three of his children at the 2003 NCAA Division I-AA Football Championship game.
Clearly, UD left a lasting impression on him.
Christie came to Delaware in the fall of 1980, politically aware and active after serving as class president all four years at Livingston High School and volunteering in the unsuccessful 1977 campaign of future New Jersey Republican Gov. Thomas Kean.
Christie turned 18 shortly after arriving in Newark. He mailed in his first ballot—for President Ronald Reagan—from extended housing in the Harrington E residence hall.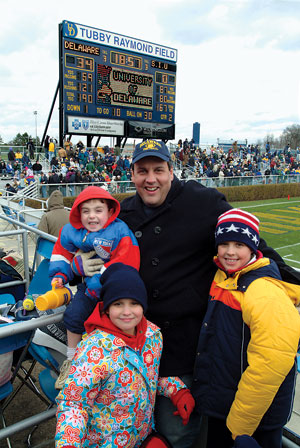 Eric Crossan
Political science Prof. James Magee says Christie "took a genuine and very deep interest in" his class on civil rights and liberties.
"He did not agree with many of my interpretations or with those of several others in the class," Magee wrote in an email, "but his responses were sophisticated and respectful of views that differed from his own (quite unlike much of the nonsense that passes for political discourse today)."
Christie got involved in student government, helping his friend Rick Mroz win the class presidency in 1981. Mroz, AS '83, now an influential New Jersey attorney, remains a close friend. For Christie, it was a chance to help in a campaign, but it was also a chance to meet someone with whom he would spend the rest of his life, Mary Pat Foster.
He and Foster became members of the Resident Student Association, and when Christie planned his own run for class president in spring 1983, he asked her to run for secretary on his ticket. With his younger brother, Todd J. Christie, AS '86, and others aiding the campaign, they won. By the winter of 1984 Chris and Mary Pat started dating, and in December he asked her to marry him.
Foster, who continued the remarkable string of class presidencies by winning the following spring, married Christie in March 1986.
After graduation, Christie returned to New Jersey for a law degree at Seton Hall University and then a job at a law firm. He also began working for Republican candidates and in 1994 won a seat himself in Morris County government.
In 2000, he served as New Jersey counsel for the presidential campaign of George W. Bush, who appointed him the U.S. Attorney for the state in 2001.
Christie overcame initial skepticism during the next seven years, as his office cut a path through corruption in New Jersey. Focusing on official misconduct, the office netted more than 130 guilty pleas and verdicts from corrupt officials—small-town crooks and prominent politicians—throughout the state without losing a case.
During these years, the Christies maintained close ties with Delaware. Mary Pat served on the UD Alumni Association's Board of Directors, while the friends who had been attending Blue Hen football games together since 1988 added another box to accommodate their growing families.
Christie received the UD Presidential Citation for Outstanding Achievement in 2003 and spoke at the next year's Winter Commencement, two decades after he helped establish the ceremony as student body president. He recalls that address as the last time his mother ever saw him speak in public.
Christie resigned as U.S. Attorney in December 2008 and announced his bid for governor in February. Most party leaders immediately rallied around him, and he won the nomination in June after fending off more conservative candidates.
Over the summer, the independently wealthy Corzine began assailing Christie with millions of dollars' worth of ads. These attacked Christie on everything from his driving record to lucrative legal monitoring contracts given to associates.
But Christie persevered against Corzine and independent candidate Chris Daggett by emphasizing burdensome state taxes. Even though he was criticized for not being specific enough about his plans, he won over state voters by promising to not raise taxes.
Ultimately he surpassed Corzine by more than 86,000 votes, a remarkably high figure in a state as liberal as New Jersey, where Democrats had controlled both houses of the legislature and the governor's seat since 2005.
Christie took office in January facing serious challenges. The recession has sharply reduced tax revenues, and the state's $28.9 billion budget faces serious shortfalls. The state owes billions to its pension funds, and Democrats still control both houses of the legislature, setting up potential showdowns.
But no matter how bad it gets, come the fall his seats will be waiting for him at Delaware Stadium. Campaigning kept him from going to any games last fall for the first time in 22 years, he says, but this year will be different.
"There are a lot of great memories that involved my entire family there," Christie says of UD. "It will always be very special to me."
Article by Derek Harper, AS '76
Derek Harper is a journalist who has covered New Jersey government and politics since 2001.