Another championship season for volleyball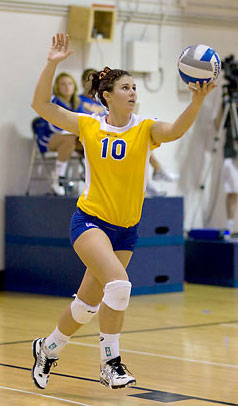 Photo by Mark Campbell
SPORTS | The volleyball team won its second straight Colonial Athletic Association championship last season and advanced to the NCAA Division I championship tournament, also for the second consecutive year, before falling to No. 7 Oregon in the opening round.
In the Nov. 24 CAA championship game, UD defeated host Northeastern University 3-2 in a thrilling match. The Blue Hens won the first set 25-21, dropped the second set 25-20 and lost a hard-fought third set 30-28 to fall behind 2-1. They rallied, however, to win the fourth set 25-11 and the deciding fifth set 15-13.
The victory sent the Blue Hens to the division tournament with a 19-15 record.
"I've never been more proud of a team," Delaware Head Coach Bonnie Kenny said of the season and the championship match. "Every bit of this, they deserved. They could have folded the tent a long time ago, but they just believed and kept training hard and knew they weren't far off. This says a lot about the type of kids in our program."
Sophomore setter Jess Chason earned accolades as the most outstanding performer after a strong championship match. She led the Blue Hens with a career-high 59 assists and added 16 digs, three kills and an ace to round out an impressive night.
"We really work hard together and give each other confidence on the court," Chason said after the match. "This whole entire time, we had this feeling and this energy, and we kept it rolling…. We just ran with it."
Sophomore Katie Dennehy and junior libero Steph Barry also provided outstanding performances, both making the All-CAA Championship team. Dennehy set a season-high 21 kills, while Barry added a match-high 25 digs and an ace.
It was an impressive season for a young Blue Hens squad. Kenny was selected CAA co-coach of the year, Barry was named the conference defensive specialist of the year and first team All-CAA, and Dennehy was named second team All-CAA. Freshman Kim Stewart was named the rookie of the year, and both she and fellow freshman Elena DelleDonne were named to the CAA All-Rookie team.
For all your UD Athletics news, visit www.bluehens.com