Winter Session students go global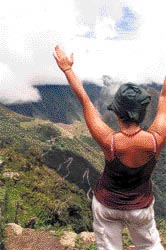 Photo by Marguerite Innes
ON THE GREEN | The world has become the University's classroom, and that fact never was more evident than during the most recent Winter Session, when more than 1,200 students fanned out around the globe to study.
Continuing a tradition that began when a young UD professor, Raymond Kirkbride, led the first U.S. study abroad program to France in 1923, the Winter Session students set out to learn foreign languages firsthand and to gain exposure to other countries' cultures, politics, art, music, technologies, economics and many other subjects. Students and faculty participated in 57 programs in 31 countries on six continents.
The University is an acknowledged leader in study abroad programs and was named among the top 20 doctoral research institutions and among the top three public institutions in that category in terms of undergraduate participation in study abroad. Open Doors 2008, a report of the Institute of International Education, ranked UD among the top four doctoral research institutions nationwide for short-term study abroad programs.
"We are thrilled to have so many academic program options for our students," says Lesa Griffiths, associate provost for international programs and director of the Center for International Studies. She calls faculty leaders "the driving force behind the success of our nationally recognized study abroad program."
During a program abroad, students earn credits for regular University courses related to the area they are visiting, while experiencing different cultures in a range of settings, from sophisticated European cities such as Geneva and Paris to remote villages in the Amazon rain forest.