Ceremony celebrates newest alumni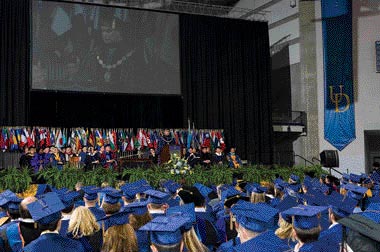 Photo by Kathy F. Atkinson
ON THE GREEN | The University saluted 400 new members of the Class of 2008 during Winter Commencement ceremonies Jan. 10 in the Bob Carpenter Center.
The previous evening, more than 150 new doctoral degree candidates were honored in a traditional hooding ceremony. Those candidates, representing six different colleges, officially received their degrees at Commencement.
UD President Patrick Harker reminded all the graduates that they represent a tradition of excellence begun in 1743 by the Rev. Francis Alison, whose first class included three signers of the Declaration of Independence and one signer of the U.S. Constitution.
"The tradition of excellence established in that first class has been handed down through the years as the University of Delaware has grown and evolved," Harker said. "It has been cherished and nurtured."
An honorary doctor of humane letters degree was awarded to Mary Patterson McPherson, AS '60M, who began her career in higher education at UD, where she taught her first college course while earning a master's degree in philosophy. She went on to spend more than 30 years on the faculty of Bryn Mawr College, including 19 years as president, and now serves as executive director of the American Philosophical Society.
Delivering the Commencement address, McPherson told the audience that America needs a new generation of dynamic, knowledgeable leaders.
"If we are going to play smarter, we not only have to pay attention to who leads us and how, but we must get actively involved and hold people in every walk of life accountable for good performance, be they our elected local or national representatives, our children's teachers, our professional colleagues and, perhaps most importantly, ourselves," she said.