Advice on engineering a successful career in business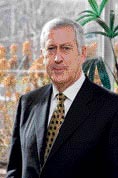 ALUMNI | William G. Mavity, EG '72, who is president, chief executive officer and director of Paracor Medical Inc., has some advice for would-be entrepreneurs: Follow your passion.
"Try to find a company and pursue your idea," he told business students during a December visit to his alma mater to launch the University's new Entrepreneur in Residence Program. "You have tremendous resources today to do your research using the Internet. What took me weeks in the library 20 years ago, you can do in just a few hours now."
Mavity spoke to an audience of about 100 in the Center for Composite Materials, then moved across campus to hold office hours at the new UD Venture Development Center in Purnell Hall, where he met with small groups of students seeking advice on their own business ideas. He offered guidance on a range of subjects, from international assignments to raising money for a business venture.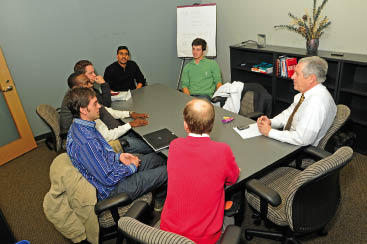 Photo by Duane Perry
"If you ever have the opportunity to work overseas, I would encourage you to take it," he said. "It can be very frustrating but also very rewarding if you can pull it off."
In discussing ways to attract support from venture capitalists, Mavity acknowledged that raising money is not for the faint of heart. Venture capitalists look for three things in identifying projects to support, he said—a good balance between opportunity and risk, the right kind of management team and a protectable idea.
He also encouraged students to pay attention in their classes, even the ones that don't interest them. "I wish I had worked harder in my engineering classes," he said. "I always found the business side easy, but I learned later that you really need to know a little bit about everything and understand at least the basics of every course you take."
Before leading Paracor Medical, a company that develops device-based treatments for patients suffering from heart failure, Mavity spent the first 21 years of his career with 3M and then became CEO of a succession of smaller companies and spinoffs.
With a bachelor's degree in mechanical engineering administration, he also serves on the advisory council for the College of Engineering.
The Entrepreneur in Residence Program is sponsored by the University's Office of Economic Innovation and Partnerships (OEIP). Established in July 2008 and headed by David Weir, former director of the Delaware Biotechnology Institute, OEIP serves as the Delaware gateway between business, government and the University's knowledge-based assets.
The office is working to establish UD as a center of innovation and entrepreneurship by securing resources and encouraging faculty, students and staff to engage in such initiatives.
Gaurav Nilakantan, a doctoral student in materials science at UD, says that meeting with Mavity after his talk proved helpful.
"He gave me keen insight into what it takes to convert an idea into a competitive and successful enterprise," Nilakantan says. "As graduate students in engineering, we develop very strong technical and analytical skills as part of our curriculum, which is the starting point for conceptualizing a good idea, but after listening to Mr. Mavity, I realized that strong business acumen is just as vital to starting or running a successful company based on that idea."
Francois Chaubard, EG '10, agrees. "This was definitely a learning experience," he says. "You think you understand how companies are bought and sold, but you realize it's a lot more complicated when you hear about it from someone who's actually done it."
Article by Diane Kukich, AS '73, '84M