Students find help in business ventures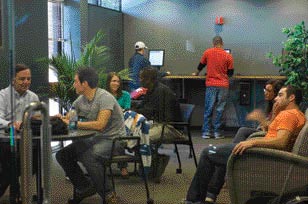 Photo by Jon Cox
ON THE GREEN | Kavi Chokshi, an Honors Program marketing and management student in the Alfred Lerner College of Business and Economics, has spent the last two years developing a business plan for a student-oriented commercial Web site he hopes to launch soon. Now, he says, he has a new resource to help him move his entrepreneurial ideas forward.
The Venture Development Center, which opened this school year on the first floor of Purnell Hall, offers students like Chokshi an applied learning laboratory where they can find office space, intensive mentoring and other support as they work to create new businesses. The center was designed to help students develop ideas into successful businesses while providing them with educational and networking opportunities.
"We want to promote the spirit of entrepreneurship and encourage our students in their plans," Conrado "Bobby" Gempesaw, dean of the Lerner College, said at an event introducing the new center to the UD community in November. "We will be looking for big things from this center...to nurture and sustain those entrepreneurial ideas our students may have."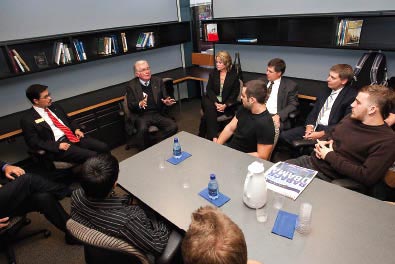 With the recent creation of the UD Office of Economic Innovation and Partnerships, he said, such support for entrepreneurial ventures has become "a University-wide priority."
Also at the November event, Gempesaw announced that Scott Jones, professor of accounting and entrepreneurial studies in the Lerner College, will serve as the center's director. Jones, he said, was "the prime mover of our business plan competition" that is held annually at UD and also suggested creating the interdisciplinary minor in entrepreneurial studies that is open to students in all majors across the University.
In addition to the work done by Jones, Gempesaw noted that Clinton Tymes, director of the Delaware Small Business Development Center, and James O'Neill, professor of economics who has led the Lerner College's Center for Economic Education and Entrepreneurship since it was created in the 1970s, have been instrumental in supporting entrepreneurship.
Another student who already is making use of the new Venture Development Center is Nikhil Paul, a senior electrical engineering major who is preparing to launch a social networking and knowledge-sharing Web site for college students. Paul says he expects the center to be especially helpful as his business plan progresses.
"I absolutely plan to spend a lot of time here," Paul said in the center's conference area. "I'm passionate about my idea and about entrepreneurship."
Also at the introductory event for the center, students had the opportunity to ask questions of Charles Cawley, founder and former president of MBNA Corp. In answer to those questions, Cawley discussed some of the challenges and opportunities he faced in his career.
Important qualities for an entrepreneur, he said, are "being able to see the whole picture of possibilities at one time" and the ability to focus on what needs to be done on a daily basis, regardless of difficulties and setbacks. "The most serious problem for small businesses is not a lack of money," he said. "It's procrastination."
Cawley visited the Venture Development Center and met with the students before delivering UD's inaugural President's Lecture on Entrepreneurship later that day. In the lecture, he urged the audience of students, faculty and community members to think of "the entrepreneurial spirit" as not limited to those who start their own businesses but as also found in some employees of large organizations.
"Entrepreneurial, creative, risk-taking--they all mean the same thing," Cawley said.
Article by Ann Manser, AS '73