Southern Delaware grads can join the club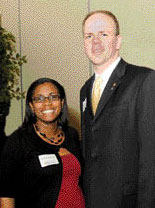 Photo by Duane Perry
ALUMNI | The newly revitalized Kent & Sussex Counties Alumni Club has a lot of things going for it—the large number of UD alumni living and working in southern Delaware, for example, and their proximity to the Newark campus. It also has Steven Waidley.
Waidley, AS '99, who recently was named the club's president, has high hopes for the group, and he believes his own enthusiasm and experience will inspire other alumni to reconnect with UD. Growing up in an Air Force family, Waidley lived all over the world before moving to Dover, where he finished high school and now has settled. He says he feels a commitment to the community and to his alma mater.
"As soon as I got to UD as a student, I got so much encouragement and did so well," Waidley says. "I've always wanted to stay involved and to give back, so when I saw that the Kent & Sussex club was becoming active again, I volunteered to help."
Like other UD alumni clubs, the group has been restructured with the establishment of a board, which supports the president and includes such positions as vice president and chairpersons for special events, young alumni and communications. Waidley says he's heard a great deal of interest from fellow alumni in the area.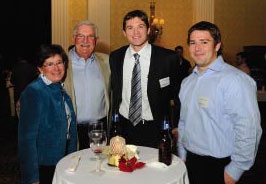 "Everyone has been excited that we're getting this club active again, and they're eager to reconnect," he says. "Our plans are to meet regularly—and to alternate our meetings between the two counties so that no one has to drive very far each time—and to get involved in some community activities so that we're doing more than just getting together to have a good time."
Waidley, who has worked in credit and fraud protection in the financial services business, says his own volunteer work for various community agencies has been meaningful to him, and he believes other alumni will be interest ed in helping the club choose some service projects in which members can participate. "You have to have a good balance in your life, and service is a part of that," he says.
For more about the club and its activities this summer, or to volunteer for the board, see www.UDconnection.com/Kent-Sussex, or call UD's Office of Alumni Relations, (302) 831-2341.