Reunion Weekend starts a new tradition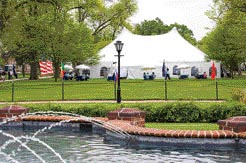 Photo by Kevin Quinlan
ALUMNI | Stay up late talking with your friends. Join the party at Mug Night. Go for a morning run. Attend a show on campus. Oh, and learn a few things, too.
If these sound like some of your favorite memories from your student years at UD—and if you've ever wished you could relive them—plan to return to campus for the 2009 Forum & Reunion Weekend, June 5-7.
That's when the University hosts its first-ever DELA-bration, a one-of-a-kind party for alumni and friends to celebrate the things that make UD distinctive and engender such loyalty among Blue Hens. And if you haven't been back for a while, you may be surprised to see how much the University has changed since your student days.
From Friday evening through Sunday morning, the weekend will be an occasion to reconnect with old friends and faculty members, to revisit the campus and the town and to enjoy a full slate of activities and class reunions.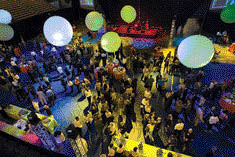 Photo by Kevin Quinlan
A variety of special programs and events will combine intellectual discovery with entertainment, recreation and fun. The weekend will provide alumni with the chance to talk with their former professors, network with one another and learn firsthand about some of the changes on campus. It will include family-friendly activities and will coincide with a community festival, Newark Night on Main Street, Saturday evening, June 6.
"All of our planning is designed to offer a variety of exciting and fun activities," says Cindy Campanella, CHEP '84, director of alumni relations. "This is the start of a new tradition for our campus and our alumni, and we hope to see them here this year and every year."
As planning for the weekend's complete program continues, many events already have been scheduled. These include Friday's Dela-bration Mug Night on The Green—featuring live music by Love Seed Mama Jump, food, drink and a commemorative mug—and family-friendly "ghost tours" of campus exploring UD's haunted history.
Alumni awards ceremonies and receptions will be held by several colleges and programs.
Saturday will kick off with a Blue Hen 5K run/walk and 1K fun run for kids, followed by a keynote address by Pat Williams of the Orlando Magic, one of America's top motivational and humorous speakers; a town hall meeting with UD President Pat Harker; an international foods picnic; and a series of engaging UD showcases.
The showcases are designed to highlight some of the University's and faculty members' areas of expertise, while providing entertaining and useful information. Topics include caring for family photos, an insider's look at the college admissions process, retirement planning, health assessments and sustainable home landscaping. In another showcase, visitors can "trade" stocks in the Exelon Trading Center, a high-tech simulated trading floor.
Saturday will also include gatherings of the reunion classes of 1959, 1984, 1999 and 2004, as well as a performance by Judson Laipply of "Evolution of Dance" fame and an all-alumni tent party on The Green with The Fabulous Grease Band.
Check UDconnection.com/ReunionWeekend for information about lodging and for updates to the schedule; also visit that site, or call (302) 831-2341, and register to attend.