True Blue Hen maintains strong ties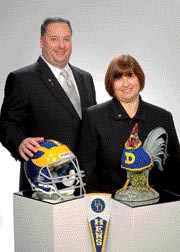 Photo by Nick Felkey Photography
ALUMNI | Neil Kline has been the son and the spouse of UD alumni, a generous donor to the University and a loyal Blue Hen sports fan, but until this year, he had not been a graduate.
That situation changed at Winter Commencement in January, when Kline officially was awarded the degree he had started earning nearly three decades earlier as an animal science major in what is now the College of Agriculture and Natural Resources. With ties that run long and deep at UD, Kline completed his associate in science degree during fall semester.
Kline first attended the University from 1979 until 1981, when he and his wife, Pat Frey Kline, AS '81, moved to Texas so she could work at the University of Houston. About eight years ago, they moved again when Pat accepted a position at the University of Washington in Seattle as the assistant to the deans at the School of Social Work.
Neil also found a job at that university, as the program assistant for the Department of Surgery, where he helps recruit residents. An interesting sideline to his job, he says, is that staff from the TV show Grey's Anatomy, which is set in Seattle, sometimes stops by to chat with Kline's residents and get pointers.
Once the Klines settled into their lives in Seattle and academia, their thoughts turned back to their alma mater. "We were in the financial position to give back. It was something that we always wanted to do," Neil says. In 2003, they established the R. Neil and Patricia Kline Award in the College of Agriculture and Natural Resources. It is given to an animal science student with a minimum GPA of 3.0 who is interested in becoming a veterinarian.
"When I started at Delaware, I had always wanted to be a vet," says Neil, who was able to meet recipient Dan Lantz, AG '09, personally. "This is our way of helping a student to fulfill his or her dreams of becoming a veterinarian…. The best thing about the award is getting to know the recipient."
Karen Aniunas, former assistant dean for academic programs in the college, says she began corresponding with Kline about the award and learned that he had not been able to finish his UD degree, so she offered the associate's degree as an option. He took her up on the idea and finished his degree requirements through UD's online courses and his prior credits.
"It is nice to finish something that I started so long ago, and I'm thankful to have had the opportunity to complete my degree at UD from all the way across the country," Neil says. "I could have chosen the obvious and finished at the University of Washington where I work, but wanted to finish what I had started at the University of Delaware."
The Klines also have established awards in the Department of Athletics: the R. Neil & Patricia C. Kline Football Award and, in memory of Neil's father and grandmother, the Neil Sr. & Helen M. Kline Football Award. Neil Sr., who died in 2005, worked for the athletics department as a building supervisor at the Carpenter Sports Building. Kline's mother, Caroline Sue (Kirkland) Kline, CHEP '73, '77M, died in May, the day after Spring Commencement, which her son was able to attend.
Article by Katy O'Connell, AG '00