Plasma physicist receives Young Scholar Award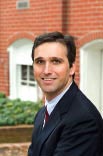 ON THE GREEN | The University's Francis Alison Society has honored Michael Shay, assistant professor of physics and astronomy, with its Young Scholar Award for 2008.
The highly competitive award is given to a tenure-track assistant professor who has demonstrated outstanding research and academic teaching excellence.
"I was overwhelmed to be selected for the Young Scholar Award," Shay says. "I understand there were many very good candidates, and it is a great honor to have been chosen."
Shay studies the physics of plasma, which is a fourth state of matter beyond solid, liquid or gas and is found in the composition of stars, lightning and the solar wind. In these plasmas, huge explosive events can occur when energy stored in magnetic fields is suddenly released, leading to shock waves and extensive particle acceleration. This energy is released through magnetic reconnection, which is the primary focus of Shay's research program.
Magnetic reconnection plays an important role in a diverse set of phenomena. It drives space weather events, including solar flares, and energizes particles in the Earth's magnetosphere that can damage or destroy satellites. It also plays a critical role in star formation.
The Alison award recognizes teaching as well as research. Shay says he loves to teach and has taught at all levels from introductory courses to the graduate level. He has been nominated twice for UD's Excellence in Teaching Award and says he has been gratified to get good feedback and top marks for his teaching from students.