Fed economist to lead Fifth District's Charlotte Branch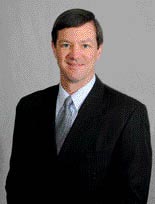 ALUMNI | The Federal Reserve Bank of Richmond, Va., has promoted Matthew Martin, BE '95M, '97PhD, to the role of senior vice president and Charlotte regional executive. Martin, of Waxhall, N.C., is responsible for branch leadership and regional outreach in the Carolinas.
He joined the Charlotte branch in 2006 as a regional economist. His responsibilities included analyzing regional economic conditions, as well as developing relationships with and educating the region's diverse constituents on the work of the Federal Reserve and the Richmond Fed. He also provided leadership to the regional research division of the Research Department, which is based in Richmond.
"Matt is an excellent business economist; he is as good as they come," says Richmond Fed President Jeffrey M. Lacker. "His unique leadership and diverse professional experiences pepare him to make contributions to the senior management team."
As an Army officer, Martin commanded a 16-member unit as part of Operations Desert Shield and Desert Storm. He previously worked as an economist for Moody's Economy.com and the U.S. Congressional Budget Office and has taught college courses in macroeconomics, money and banking.