Delaware remains top priority in tight budget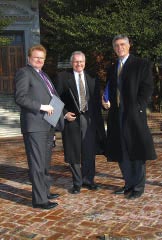 Photo by Mike Baker
ON THE GREEN | The University is taking steps to limit its expenditures and wants to work with Delaware state lawmakers "to identify our reductions so that we remain responsible to our students and staff, to our articulated priorities and to the state's economic vitality," UD President Patrick Harker told legislators at a February meeting.
Despite the current fiscal downturn affecting the state and the nation, Harker said the University's commitment to Delaware remains the institution's top priority. He made his remarks during a discussion of UD's fiscal year 2010 state operating budget with members of the Joint Finance Committee of the Delaware General Assembly in Dover, Del.
"When the University launched its strategic plan last spring, we made our leading principle 'Delaware First'—our assurance that every Delawarean will have access to a top quality education and that we'll apply our strengths and resources to benefit the greater Delaware community," Harker said. "I assure you that, regardless of the state's fiscal outlook, our Commitment to Delawareans will not abate."
The Commitment to Delawareans plan, developed in 2006, lays out an academic roadmap that guides Delaware secondary school students in gaining admission to the University. Recent enhancements to the Commitment call for UD to meet the full demonstrated financial need of Delawareans who qualify under the roadmap.
"To make certain that graduates aren't excessively burdened financially once they graduate, the University will work to ensure that a student's indebtedness upon completing a degree is kept to a minimum; our goal is set at 25 percent of the cost of a four-year education at UD," Harker said.
He noted that the Commitment to Delawareans, combined with new rolling admissions and early notification policies, are proving popular with First State residents.
"This past fall, we admitted 92 percent of all Delawareans who applied, with 66 percent going to the Newark campus, while 26 percent were admitted to the Associate in Arts degree program," Harker said. "We've received 300 more completed applications from Delaware residents this year than last year."
Harker called such initiatives especially challenging in an economic climate where, for the first time in five years, state aid for higher education nationally grew more slowly than it had the year before.
"Those challenges aren't unique to Delaware. Nationwide, state tax support for higher education increased by less than 1 percent in fiscal year 2009, to $78.5 billion," he said. "With $281 in per-capita spending on higher education, Delaware ranks 45th in the U.S., in its fiscal year 2009 funding commitment."
Harker also told legislators that besides being a nationally acclaimed educational value, UD supports 7,500 jobs while spending $410 million annually, with a total economic impact of more than $750 million.
In December, he said, Smart Money magazine ranked UD 16th nationally for its return-on-investment, the difference between University tuition and a graduate's annual salary. "With that number rank, we beat out every single Ivy League school," he said. "And [in January], The Princeton Review named UD as one of the 'Best College Values' for 2009."
Article by Jerry Rhodes, AS '04