Artists explore issues of race, urban life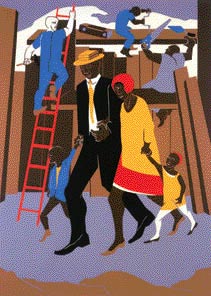 Jacob and Gwendolyn Lawrence Foundation, Artists Rights Society, Courtesy of DC Moore Gallery
ON THE GREEN | There's still time to see an exhibit of works on campus by the prolific artist Jacob Lawrence, who is known for his discerning portrayals of black urban life and who was the first African American artist to achieve sustained attention from mainstream commercial galleries and museums.
"Jacob Lawrence in Print 1963-2000" will remain on view at the University's Mechanical Hall Gallery through May 10. Courtesy of DC Moore Gallery in New York, the exhibit offers a comprehensive survey of Lawrence's graphic work, including the narrative series The Legend of John Brown and 15 prints based on The Life of Toussaint L'Ouverture series. The latter series chronicles the Haitian revolutionary and his role in the establishment of a black republic.
Lawrence (1917-2000) studied art in Harlem under Charles Alston at the Utopia Children's Center and at the WPA Harlem Art Workshop.
Opening in the Mechanical Hall gallery on May 26 is an exhibition of works by James Newton, professor emeritus of education and former chair of Black American Studies at UD. "James Newton: The Art of Delineation," the first exhibition dedicated to the artist, highlights the techniques and images through which Newton addresses themes of self, race, memory and legacy.
Curated by art history doctoral student Cara Zimmerman Campbell, the exhibition follows Newton's artistic progression from the mid-1960s through 2008. It runs through July 26.
Gallery hours through May are Tuesday to Friday, 11 a.m. to 4 p.m., Wednesday to 8 p.m., and Saturday and Sunday, 1-4 p.m. Hours change in June and July; visit www.udel.edu/museums, or call (302) 831-8037, for summer hours and other information.