Band pops up in video game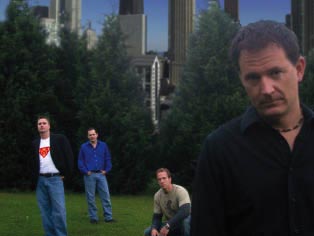 Photo by Kat White
ALUMNI | James Davis' daughters thought it was awesome when they found out their dad's band was featured in a video game. And then, when they found out that the game also included pop-star royalty like Miley Cyrus and the Jonas Brothers, their world was changed forever.
"At that point, I knew I made it," says Davis, CHEP '92, who in addition to his musical career, is a teacher at The College School at UD, which serves students in grades one through eight.
In the game, called "PopStar Guitar," players work their way up as a lead guitarist in a band, starting off practicing in a garage and advancing to playing sold-out concerts in front of thousands of screaming fans. The game is played much like "Guitar Hero," with a gaming guitar that plugs into the system.
Though the game is loaded with more than 50 songs from various pop artists, Davis' band, hyper maru, was awarded the distinction of being the final song a player needs to complete in order to win. That song, Wonder, features a complex solo by lead guitarist Don Zabitka.
"A lot of the reason that we got to be the million-dollar song is because Don Zabitka's solo is amazing," Davis says. "I think that had a lot to do with it."
The band, whose other members are bass player Steve Axt and drummer Tommy Ross, has been together since 2000. Davis, who sings and occasionally plays rhythm guitar, describes their sound as having a heavy-alternative edge. As opposed to a band that constantly tours, hyper maru, thanks mostly to the individual band members' growing families, focuses on recording new and original music, Davis says.
In his day job at The College School, Davis works with youngsters who demonstrate learning, attention, mild social, emotional and/or mild behavioral issues that may impact school success, with the goal of eventually returning those students to mainstream academic environments.
"I totally love this job," he says. "The whole atmosphere of the school is amazing. It's like our own little family. I've never been in a school like this before."
Article by Adam Thomas