Getting a Head Start to success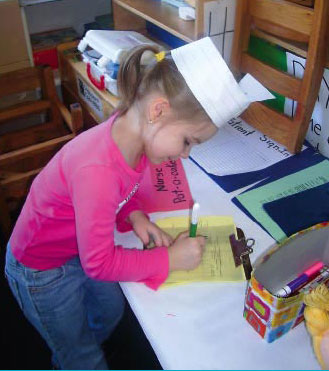 RESEARCH | The first Head Start preschoolers to experience the Delaware Early Reading First (DERF) project have "graduated," and researchers say their astonishing success in kindergarten clearly demonstrates the value of early language arts intervention in improving the academic outlook of children from impoverished circumstances.
"The results of the follow-up study indicate that the DERF project graduates performed as well as or better than the general population of children their age," says Myae Han, assistant professor of human development and family studies. "The children's performance is particularly impressive on these measures when one remembers that the majority of the children were not only from low-income families but also came from homes where English was not the primary language spoken."
The project began in 2005 with a competitive $3.3 million grant awarded to faculty members in the College of Human Services, Education and Public Policy, in cooperation with New Castle County (Del.) Head Start, by the U.S. Department of Education.
Children in Head Start preschool programs are considered at risk for academic challenges and failure due to economic circumstances, home language or disability. Without intervention, these youngsters often start formal schooling lagging behind their peers.
"Head Start provides each family with a case manager who helps ensure that basic needs for food, shelter and clothing are being met," says Martha Buell, professor of human development and family studies. "Our project provides additional enrichment and resources to support their language and literacy development—something that their home environment often lacks."
For the last four years, DERF has assisted three Head Start preschools in New Castle County with services and materials based on recent research that has clarified exactly how children learn to read. The project provides ample literacy materials, ongoing professional development and onsite coaching to support teachers' use of research-based reading strategies and developmentally appropriate literacy instruction.
The children are exposed to quality storybook reading, instruction and play-based literacy activities each day in the classroom. Master's degree-level teachers specially trained in reading and literacy provide the coaching, while UD graduatestudents participate in one-on-one tutoring and help the researchers with data collection.
Last spring, the researchers followed 97 of the 2007 Head Start graduates of their project into kindergarten in Delaware's Colonial School District to test their language and early reading proficiency and ask their teachers about their progress.
In general, the children who had participated in DERF produced higher scores on various parts of standardized literacy assessments than would be expected of the average population of children beginning first grade, including letter-word identification, story recall, understanding directions, decoding words and receptive vocabulary. Their teachers judged all but 14 of the 97 children to be in the intermediate to proficient stage of development on each rated skill.
"We were delighted with the children's performance on these measures," says Carol Vukelich, director of UD's Delaware Center for Teacher Education and Hammonds Professor in Teacher Education. "Our Early Reading First project, including New Castle County Head Start and Colonial School District kindergarten teachers, can take great pride in how well prepared these children are for success today and in the future."
Article by Beth Chajes