Farm models sustainable agriculture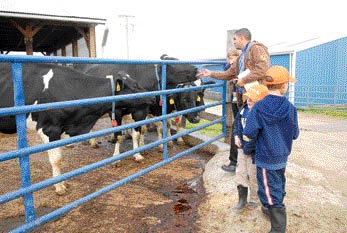 Photo by Danielle Quigley
ON THE GREEN | The working farm that serves as a kind of living laboratory for students in the College of Agriculture and Natural Resources has recently completed projects aimed at improving sustainability while enhancing educational opportunities. The UD Farm is remarkable for its location, unlike those at many other land-grant institutions, immediately on the University's main campus.
In the first initiative, major upgrades were completed to the UD Dairy in an effort to better serve students, regional farmers and the environment. Renovations include the installation of a dairy manure recycling and composting system and a new milking parlor.
The UD Dairy is a dominant feature of the farm, with about 100 dairy cows and 120 acres of croplands used to grow corn and alfalfa to feed them. It is pivotal to serving 270 undergraduates with hands-on education in livestock production systems and is critical to the college's outreach mission, since dairy revenues are second only to poultry in Delaware's food-based livestock sales.
"To continue serving students and regional farmers, it became clear that updates were needed," Robin Morgan, dean of the college, says. "Our dairy parlor was more than 30 years old and no longer represented current technology. Likewise, we want the college to set an example in agricultural environmental protection."
With funding from the U.S. Department of Agriculture Natural Resources Conservation Service (NRCS), the state's New Castle Conservation District and matching funds from the college, an extensive project was initiated to improve manure and runoff management. Sand is now cleaned and recycled for bedding in the barns, and organic matter from manure is composted for use by local farmers, landscapers and nurseries.
Those involved in the dairy renovations include Andrew Wedel, AG '92, who oversaw the manure separation and storage system for McLanahan Corp.; NRCS engineer Rich Gorlich, AG '87; Marianne Hardesty, AG '77, conservation planner with NRCS; Les Stillson, the state operations manager for Delaware NRCS; and Kevin Donnelly, the New Castle Conservation District coordinator.
"Three of our project partners got their feet wet as undergraduates here in the college," Morgan says. "We're so happy to have our alumni back working with us."
Another recent project, also part of the integrated effort to make the UD Farm a model of sustainable, environmentally friendly agriculture, involved students who are converting a cow pasture into a wetland.
Over the course of four warm days in mid-October, the students joined faculty and staff volunteers in planting more than 250 potted trees and shrubs, in addition to 600 plant plugs (which are grown in small cells, not pots).
For freshmen enrolled in a new student colloquium, it was a chance to learn more about the college and about wetlands and wetland management. But for upperclassmen enrolled in a design course, the planting days were merely the culmination of work that began on the first day of class that semester. These students were responsible for creating the wetland, from the initial landscape plans to the choice of signs that were erected to explain the project.
"I jumped at the chance to get my planting design students involved in this project," says Chad Nelson, assistant professor of plant and soil sciences. "I'm always looking for opportunities to get the students out of the classroom and into real-world situations like the ones they will deal with in their careers."

Article by Katy O'Connell, AG '00 and Margo McDonough, AS '86, '95M