Donors learn how they make a difference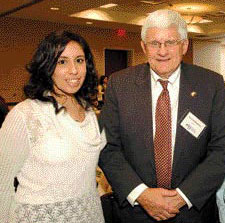 Photo by Kathy F. Atkinson
ON THE GREEN | Thanks to a scholarship she receives, medical technology student Marianne Meshreki says she has been able to avoid the necessity of holding a job during the school year and instead to devote more time to her studies and to use her free time volunteering in a hospital microbiology lab.
Last fall, Meshreki, the recipient of the James C. and Theresa Kakavas Scholarship, was able to tell her story and express her gratitude to a group of University donors. The occasion was UD's first Celebration of Scholarship dinner and reception, which will become an annual opportunity for donors to meet personally with the students who are benefiting from their philanthropy.
"Another benefit of your generous donation is that I have been able to take advantage of some of the service and career opportunities provided by the University and the medical technology department," Meshreki told the audience of about 150 who attended the event.
Also attending were Charles Genuardi and his wife, Patricia, who sat with the beneficiary of their scholarship, Chris Smith, a food and agribusiness management major.
"It is rewarding," Charles Genuardi said of the face-to-face meeting made possible by the reception. "We're spending time with him and learning about his aspirations, and as he continues into his career, if I can network with him and mentor him along the way, that's great."
Lori Jane Henhaffer, an elementary education student who received the Class of 1958 Scholarship, spoke at the event and expressed her gratitude to her donors and all the scholarship supporters.
"In a year from now when I am teaching middle school math, I can only dream to pass on strength and compassion to my students in the same way that you have given it to me," she said. "We all have one commonality. We owe our greatest thank you and sincerest gratitude to those of you in the room who have given us a precious gift—an opportunity for an education, an opportunity to succeed."
UD President Patrick Harker also thanked the donors for their generosity and commended the students.
"Scholarships make a very real difference in the University's ability to compete with other schools and to enroll top students on our campus," Harker said. "As this University proceeds on its Path to Prominence, the quality of the student body and the commitment of friends are key to our success."