Plenty of UD connections at inaugurals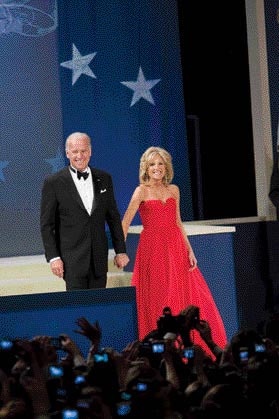 Photo by Jennifer Corbett/News Journal
ON THE GREEN | Inauguration Day 2009 was full of significance for the country, the state of Delaware and the University. It all began with a gubernatorial swearing-in on the UD campus shortly after midnight on Jan. 20—a full 12 hours before President Barack Obama and Vice President Joe Biden, an alumnus, took their oaths of office.
Delaware Gov. Jack Markell and Lt. Gov. Matt Denn, whose fathers were professors at UD, took their own oaths in Mitchell Hall in a ceremony hosted by University President Patrick Harker. The early hour allowed interested Delawareans to travel to Washington later that morning for the presidential and vice presidential ceremonies and celebrations.
"There is something very special about taking the oath of office at this particular hour, in this particular place, in front of this community of friends," Markell said. "We have come together in a place that is very meaningful to me personally."
Markell is the state's 73rd governor and the son of the late William Markell, who was Arthur Andersen Alumni Professor Emeritus of Accounting. The governor grew up in Newark and attended Newark High School. His wife, Carla (Smathers) Markell, CHEP '84, is a UD alumna.
Denn is the son of Morton M. Denn, who taught in the Department of Chemical Engineering from 1965-81, and his wife, Michelle (Ackerman) Denn, CHS '84, is a UD graduate.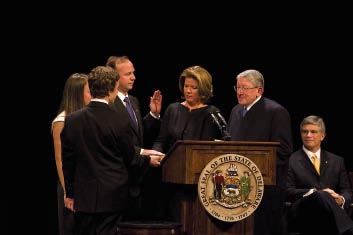 Photo by Kathy F. Atkinson
Around noon that day, shortly before Obama was sworn in as president, Biden, AS '65, took the oath of office as vice president with his wife, Jill, AS '75, CHEP '06EdD, at his side. In the crowd was a large contingent from Delaware, including many UD students, faculty and Harker and his wife, Emily.
For the UD Marching Band, which received an invitation to take part in the inaugural parade along Pennsylvania Avenue and perform for the new president and vice president, the day was "an amazing experience," junior Andrew Tremblay reports.
"It was a huge honor to play in front of President Obama and Vice President Biden. What a privilege and an experience, to be a part of such a historic event."
Governor fills leadership posts
Markell has selected several UD alumni to serve in his administration. They include:
Carl Danberg, AS '87, a supplemental faculty member in the Department of Political Science and International Relations, re-nominated as commissioner of correction; Velda Jones-Potter, EG '79, state treasurer; Ed Kee, AG '73, '75M, retired UD Cooperative Extension specialist, secretary of agriculture; and Rita Landgraf, CHEP '80, chair of the Community Advisory Council of the University's Center for Disabilities Studies, secretary of health and social services.
Also: Stephanie McClellan, CHEP '04PhD, who recently served as an assistant professor in the School of Urban Affairs and Public Policy, the governor's policy director; Ann Visalli, BE '87, '90M, an adjunct faculty member in economics and president of the Lerner College of Business and Economics' Alumni Association, director of the Office of Management and Budget; and Carolann Wick, EG '82, CHEP '91M, re-nominated as secretary of transportation.
In addition, Markell's transition team included Nancy Targett, dean of the College of Marine and Earth Studies, and David Roselle, UD president emeritus. J.J. Davis, the University's vice president for administration, served on the team to coordinate the cabinet secretary selection process, and Donald J. Puglisi, professor emeritus of finance, co-chaired the transition team committee focusing on administration.