Mary Shelley's creature lives again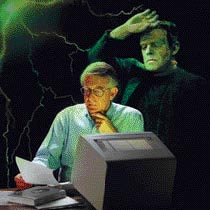 Photo illustration by Robert Cohen and Keith Heckert
RESEARCH | When Charles Robinson, professor of English, began painstakingly studying author Mary Shelley's Frankenstein manuscripts two years ago, he did so in a British building that might have seemed oddly familiar.
Both Shelley and her husband, poet Percy Shelley, apparently visited the same Clarendon Building in 1815, and moreover, even Victor Frankenstein and Henry Clerval stopped by in the novel. The Clarendon is now part of the Bodleian Library at the University of Oxford, where Robinson lectured last fall to launch the publication of The Original Frankenstein, of which he is the editor and author of the book's introduction.
The Original Frankenstein contains the version edited and amended by Percy Shelley and a second version in which as many as possible of those changes were removed, Robinson says.
In his introduction, Robinson writes that, "a comparison of the two versions...shows that Percy deleted many words...and that he contributed at least 4,000 to 5,000 words to this 72,000-word novel." Despite this significant contribution, Robinson notes that the manuscript evidence in the surviving pages of the draft and the corrected manuscript attest to the fact that the novel was conceived and mainly written by Mary Shelley.
"By inspecting each leaf of the manuscript, and by attending to torn edges and glue residue, ink blots, pin holes, water marks and other minutiae, [Dr. Bruce C.] Barker-Benfield [senior assistant librarian at the Bodleian] and I reconstructed the disbound pages of Mary Shelley's notebooks and discovered the process by which she created her novel," Robinson says.
"Here, in the Clarendon Building, the library became a laboratory, and the 'hideous progeny' of Mary Shelley's Frankenstein once again came to life."
For more on research at the University of Delaware, visit www.udel.edu/research.
Article by Jerry Rhodes, AS '04