New center focuses on clean energy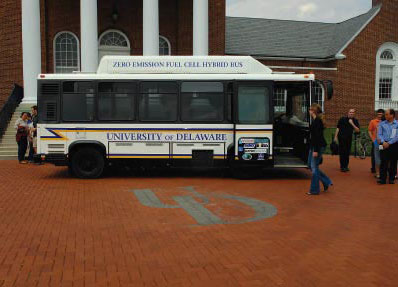 Photo by Kathy F. Atkinson
ON THE GREEN| The University has established the Center for Fuel Cell Research (CFCR) to improve the understanding of fuel cells and address critical issues and barriers to commercialization of this potential source of clean energy that uses no fossil fuels.
The center will also provide undergraduate and graduate students with the opportunity to participate in fuel cell research and demonstration projects. Ajay Prasad, professor of mechanical engineering, founded the center and is serving as its first director.
CFCR research focuses on a broad range of topics in fuel cell and hydrogen infrastructure science and technology; the overall goal of the work is to improve performance and durability with novel materials, architectures and operating strategies.
"Delaware is a great place to start a fuel cell center," Prasad says. "Wehave a large number of people here at UD doing work related to this subject, and many of the major players in the fuel cell market are within a 50-mile radius of the University."
Fuel cells convert the energy contained in hydrogen directly to electricity by combining it electrochemically with oxygen. No fossil fuels are consumed, and the only emission is water.
The new center is housed in the mechanical engineering department of the College of Engineering and includes some 25 faculty members from that college, as well as the colleges of Arts and Sciences, and Marine and Earth Studies. Traditionally, fuel cell research was conducted mostly by electrochemists, but Prasad says that there are tremendous opportunities for engineers and materials scientists as well.
"It is also necessary to involve diverse fields like biotechnology in fuel cell and hydrogen research," he says. "For example, photobiological water splitting using certain types of bacteria and sunlight might offer an exciting, renewable way to produce hydrogen in the future."
Important components of the center's mission are technology transfer to industry and public outreach to educate the community about the benefits of fuel cells through such demonstration programs as the University's fuel cell bus.
"By 2011, we should be up to four buses," Prasad says, "and we also have plans to build two more hydrogen refueling stations, one in Wilmington and one in Dover."There already is a station in Newark.
Prasad sees three barriers to widespread adoption of fuel cell technology: cost, durability and the lack of a hydrogen infrastructure. CFCR research is addressing issues related to all three.
"Public acceptance is also an important issue," he says, "and the bus project has helped by increasing awareness. The presence of three filling stations in the state also has the potential to contribute to future efforts to attract fuel-cell related research and demonstration projects to Delaware.
"I think that the University of Delaware will benefit from a timely confluence of political, industrial and academic agendas centered on alternative energy approaches. The fuel cell effort is an important part of that."
The fuel cell center is part of the overall energy research effort encompassed by the recently launched University of Delaware Energy Institute (UDEI). Recognizing the need for integration and collaboration of efforts in energy research, development and policy, the institute was established to serve as the focal point of energy research, education and outreach at the University.
The institute makes use of UD's longstanding leadership in such fields of energy research as photovoltaics, catalysts for fuels production, lightweight composites for fuel-efficient vehicles, energy efficiency and conservation, energy and environmental policy, fuel cell science and technology, wind power and energy storage.
For more about the UDEI and the new fuel cell research center, visit www.energy.udel.edu.