Super season for some former Hens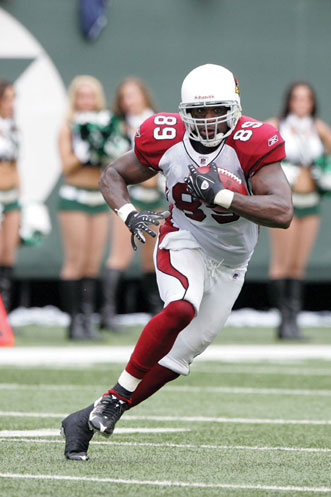 Photo courtesy of the Arizona Cardinals.
SPORTS | A trio of former UD football standouts found success in the NFL this season, including a Super Bowl appearance for one and an exceptional rookie year for another.
In February, former Blue Hen tight end Ben Patrick scored a touchdown for the Arizona Cardinals in their 27-23 loss to the Pittsburgh Steelers in Super Bowl XLIII. Pittsburgh had bolted to a 10-0 lead when the Cardinals got on the board in the second quarter on a one-yard pass from quarterback Kurt Warner to Patrick.
Patrick is the third former UD player to suit up in a Super Bowl. Ivory Sully was a defensive back and special teams star for the Los Angeles Rams, who lost Super Bowl XIV 31-19, also to the Steelers, in 1980. Rich Gannon was quarterback for the Oakland Raiders in 2003 when they lost Super Bowl XXXVII 48-21 to the Tampa Bay Buccaneers. Gannon threw for two touchdowns in that game.
Another former UD standout, Jamin Elliott, earned a Super Bowl ring with the New England Patriots in 2004 as a practice player but did not suit up for the game, a 32-29 win over the Carolina Panthers.
Patrick, a 6-foot 3-inch, 260-pound native of Savannah, Ga., is a second-year member of the National Football Conference champion Cardinals and serves as the team's No. 2 tight end behind starter Leonard Pope.
He began his collegiate career at Duke, where he played for three seasons before transferring to Delaware as a senior. Although Delaware went 5-6 under Head Coach K.C. Keeler in his only season in 2006, Patrick enjoyed one of the finest campaigns ever for a Blue Hen tight end.
He earned consensus first team All-American honors after catching 64 passes for 639 yards and six touchdowns, setting a school record for receptions in a season by a tight end. Also a first team All-East and first team All-Colonial Athletic Association selection, he went on to play in both the East-West Shrine Game and Senior Bowl all-star games and was drafted in the seventh round of the NFL draft by the Cardinals in April.
Patrick was one of three former Blue Hens to compete in the NFL this past season, joining quarterback Joe Flacco of the Baltimore Ravens and safety Mike Adams of the Cleveland Browns.
Flacco received consideration for NFL Rookie of the Year honors as he enjoyed a banner year as the starting quarterback in Baltimore, leading the Ravens to the American Football Conference title game before falling to Pittsburgh 23-14. He started all 16 regular season games and completed 257 of 428 passes for 2,971 yards and 14 touchdowns with just 12 interceptions. He also caught a pass and ran for 180 yards and two touchdowns. He led the Ravens to playoff wins over Miami (27-9) in the first round and over Tennessee (13-10) in the second round.
Adams appeared in 14 games and ranked 10th on the team with 44 total tackles, including 36 solo stops as a part-time starter. He also recorded two interceptions, including one against Flacco in the Browns' 28-10 loss to the Ravens on Sept. 21. A five-year NFL veteran, Adams has recorded 220 tackles and seven interceptions for his career.
For all your UD Athletics news, visit www.bluehens.com