Nine top Blue Hens join Hall of Fame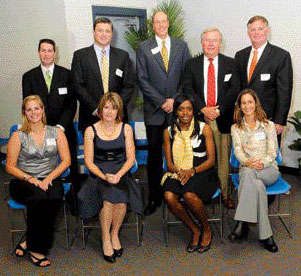 Photo by Duane Perry
SPORTS | The nine-member UD Athletics Hall of Fame Class of 2008, inducted during a ceremony in November, features seven All-Americans, the all-time leading scorers in men's lacrosse and women's basketball and the men's basketball coach with the most victories in Blue Hens history.
"This is another star-studded class that excelled not only on the playing fields but also in the classroom," Director of Athletics Edgar N. Johnson says. "All of them brought distinction to the University of Delaware and its athletics program in their own ways, and we are pleased to honor them." They are:
Anthony DiMarzo, AS '96, was one of the nation's most prolific and consistent scorers during his career as an attackman with the Delaware men's lacrosse squad from 1992-95. He was a three-time All-American and was named the North Atlantic Conference Player of the Year in both 1994 and 1995.
Alison Farrance Del Rossi, AS '86, a standout in track and field, epitomized the term student-athlete. An honors graduate who received the 1986 Warner Award as Outstanding Senior Woman, she won the East Coast Conference indoor triple jump title three times from 1984-86 and was part of two conference champion relay teams.
Cindy Johnson, AS '01, played a pivotal role in the rise of Delaware women's basketball in the late 1990s under Head Coach Tina Martin. With a fast-paced style of play in the backcourt, she helped lead the Blue Hens to a 73-24 record over her final three seasons and finished her career as the school's all-time leading scorer.
Gardy Kahoe, AS '73, one of the all-time great running backs ever to suitup for the Delaware football team, was virtually unstoppable during his career for the Blue Hens from 1968-71. He spearheaded the Delaware Wing-T offense and helped the Blue Hens capture the Middle Atlantic Conference in 1969, earn three Lambert Cup trophies and win three Boardwalk Bowl games.
Brenda Lear, CHS '96, was a four-year starter in both field hockey and lacrosse from 1991-95. She earned Collegiate Field Hockey Coaches Association All-American honors in both 1993 and 1994 and was a member of the U.S. under-21 national team.
Al Neiger, EG '60, a fire-balling left-handed pitcher during the late 1950s, went on to pitch for the Philadelphia Phillies. Neiger earned first team All-American honors in 1959 when he set the University record for earned run average, a stingy 0.88 mark that still stands, and led the nation in strikeouts.
Mike Renna, BE '91, was one of the nation's most feared defensive linemen during his illustrious career with the Delaware football team during the 1980s. A two-time All-American, he went on to play professionally for three seasons from 1991-93, including stints with the Philadelphia Eagles and San Francisco 49ers.
Liza Shoemaker Kelly, AS '98, was a stalwart midfielder during her All-American career with the Blue Hens women's lacrosse team from 1995-98 and was an honors graduate. She scored 60 career goals, earned All-American honors three times and also competed for the U.S. women's lacrosse national team.
Steve Steinwedel directed the rebirth of the UD men's basketball program during his head coaching career from 1985-95, leading the Blue Hens to unprecedented success in the conference and to multiple NCAA Division I championship tournament appearances. The winningest coach in school history, Steinwedel led the Blue Hens to a 10-year mark of 163-121 that included seven straight winning seasons, two conference titles and the team's first two NCAA tournament appearances, in 1992 and 1993.
For all your UD Athletics news, visit www.bluehens.com