Enhanced facilities, expanded opportunities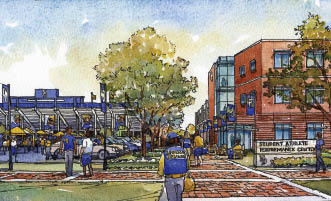 SPORTS | New and improved facilities, competitive commitment and increased opportunities for recreational activities are among the goals set forth in a new strategic plan announced by the Division of Intercollegiate Athletics and Recreation Services.
The plan, which was drafted as part of the University's Path to Prominence™ strategic plan, will guide the future of varsity sports and recreational programs. "Despite the current worldwide economic stress that is impacting the U.S., state and University community, we remain committed to our overall strategic plan as well as this plan for athletics and recreation services," UD President Patrick Harker says. "Given the uncertain economic times, some of our goals may take longer to achieve than we had hoped." He also emphasizes the need for donor support to fund many of the athletics and recreation projects in the future.
"The key priorities set forth in this plan are to increase opportunities for participation for all students in club sports, intramurals and fitness and recreation programs; to ensure the competitiveness of varsity sports; to promote and support the welfare of student-athletes; and to comply with Title IX, a federal mandate that calls for equal opportunities for men and women," Edgar Johnson, director of athletics, says.
The plan notes that Carpenter Sports Building, first constructed in 1943 and most recently renovated in 2000, cannot meet the space demands of its various users. It recommends a new recreation center equipped with a state-of-the-art aquatics center.
Attracting quality student-athletes and helping them achieve academic excellence will remain an important goal of the Blue Hen athletics program, according to the plan, which calls recruiting the "life's blood" of any NCAA Division I athletics program.
A key objective for student-athlete advancement and welfare is the proposed construction of a student-athlete performance center. This facility will be the centerpiece of the south athletic campus that will serve all University student-athletes, both academically and athletically.
In addition, studies are to be conducted into the need to construct a new football and multi-purpose stadium and a larger basketball arena and convocation center on the south campus.
Another goal calls on the University to move beyond mere statistical compliance with Title IX provisions by providing opportunities and resources consistent with its principles. UD will add women's golf as an intercollegiate sport while de-emphasizing men's indoor track.
"Several men's sports were considered during this process, as well as the impact on student-athletes, minority student-athletes and the varsity coaching staff," Johnson says. "We anticipate that this will have minimal impact on our running program."
Cross country and outdoor track and field will remain as varsity sports. Men interested in competing in indoor track continue to have an avenue through UD's highly successful club sports program. Johnson also notes that the CAA does not sponsor indoor track and field.
Despite de-emphasizing one men's sport, the University will still have 23 intercollegiate programs, above the average in NCAA Division I and more than any other team in the CAA except for the College of William and Mary, which also has 23.
A new video highlighting the plans for recreational and athletic facilities can be viewed at the UD Athletic Fund Web site, www.udaf.udel.edu; click on "Capital Projects and Facilities."
For all your UD Athletics news, visit www.bluehens.com