Alumni gather for festivities, networking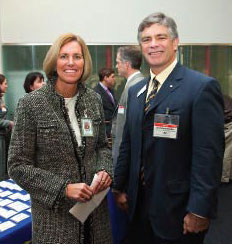 Photo by Kevin Quinlan
ALUMNI | The winter holidays are always a busy time, and this past season was no exception for the Office of Alumni Relations and the regional alumni clubs. Two clubs in Delaware and those in Washington, D.C., and Philadelphia all held events in December, with Blue Hens gathering to enjoy themselves in a variety of ways.
Then, shortly after the start of the new year, alumni who work at W.L. Gore & Associates gathered with University President Pat Harker at one of the company's Newark, Del., facilities to mix, mingle and explore ways for the two institutions to reinforce their already strong connection. The event was the first of UD's corporate rollout events, intended to strengthen ties to the private sector. Gore President and CEO Terri Kelly, EG '83, says the event was a great success, with about 100 in attendance.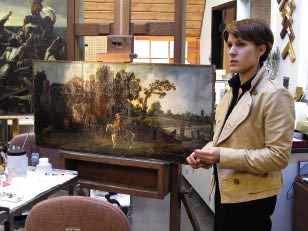 In early December, the newly revitalized Kent & Sussex Counties Alumni Club in southern Delaware (see related article on next page) celebrated the holidays with Harker at Dover Downs Hotel & Casino, providing Blue Hens the opportunity to reconnect with old friends and the University. Elaine Townsend, CHEP '66, describes the reception as "delightful" and says, "Everyone is always impressed with President Harker."
A few days after the Kent/Sussex gathering, the New Castle County Alumni Club celebrated its own holiday tradition at the Winterthur Museum & Country Estate, with a special concert by the award-winning UD Chorale and private tours of the conservation laboratories led by students and by Debra Hess Norris, AS '77, '80M. Norris, the Henry Francis du Pont Chair in Fine Arts and chairperson of the Department of Art Conservation at UD, also is vice provost for graduate and professional education.
"All your students were so excited about being able to share their work and so delightful to be with," Sharon Hale Meyer, CHEP '68, wrote after the event. "The food, the program, the timing and the staff were terrific."
Also in December, the restructured Washington, D.C., club and its new board president, Kris Schroeder,
AS '00, hosted its annual holiday party at Capitol City Brewery. The event was a success in more ways than one, as Blue Hens from four decades attended, not only to have fun but also to bring more than 40 pounds of canned goods to donate to an area food bank.
In Philadelphia, the alumni club's holiday meeting at the Crane Arts Building featured a wine tasting led by Bob Nelson, CHEP '99Ph.D, chair of UD's Hotel, Restaurant and Institutional Management program, and Josh Kling, BE '09, one of the nation's youngest sommeliers. Guests also viewed art by UD students and alumni on display at UD@Crane, the University's space in the building.
Wherever you live…get involved!
Blue Hens interested in having alumni activities in Tampa, Fla., and the Lehigh Valley, Pa., should email Tampa@UDconnection.com or LehighValley@UDconnection.com. Alumni gatherings are being scheduled for both these areas this spring. For details, visit UDconnection.com.
Looking to get involved in other regions? Contact Sandy Tilford, CHEP '95, alumni club coordinator, at (302) 831-2341 or AlumNet@udel.edu.