Friends reconnect on campus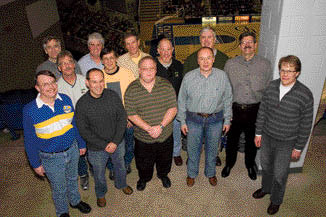 Photo by Mark Campbell
ALUMNI | They met—most of them as freshmen—while living on the third floor of the Gilbert E dorm in the 1970s. Despite the random residence hall assignment that brought them together, these alumni remarkably have remained friends and scheduled regular get-togethers all during the three decades that have passed since their graduation. This year, more than a dozen of them traveled from around the country back to UD for a men's basketball game at the Bob Carpenter Center, where they watched the Hens win over Georgia State.
"It's amazing to think how long we've known each other and how much we still enjoy getting together," says Dan Strickberger, BE '78, of Mt. Kisco, N.Y.
Photographed at the game on Jan. 24 are, all from left, front row: John Trexler, EG '78, Roger Frank, AS '78, Dave Knotts, CHEP '78, Mike Yayac, BE '79, and Mark McMinimy, AS '78; second row: John Huber, EG '78 Jeff Fischer, AS '79, Mark Mourges, BE '78, Jim Schintz, BE '78, and Mike Joyce, AS '80; and back row: Chuck Sandy, EG '78, Dan Votaw, CHEP '77, and Dan Strickberger.