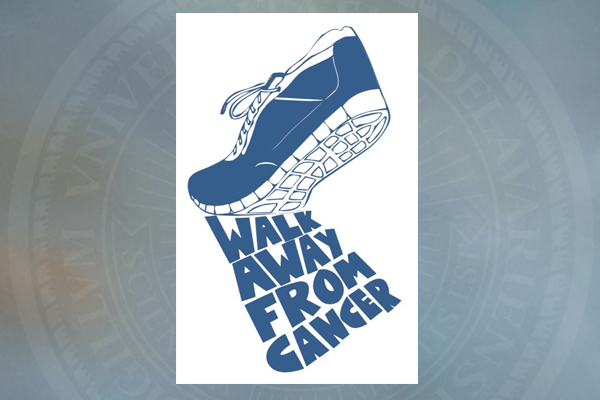 Sept. 28: Walk Away From Cancer
UD colleges, graduate students support local Walk Away From Cancer event
1:51 p.m., Sept. 4, 2015--This fall, the University of Delaware's Alfred Lerner College of Business and Economics Graduate and MBA Programs is partnering with UD's College of Health Sciences and local nonprofit Cancer Care Connection to sponsor Walk Away From Cancer, a friend- and fundraising program.
During the week of Sept. 28, participants in this year's Walk Away From Cancer will wear pedometers to count their steps and receive healthy lifestyle messages to keep them motivated. 
From graduates, faculty
As it neared time for the processional to open the University of Delaware Commencement ceremonies, graduating students and faculty members shared their feelings about what the event means to them.
Doctoral hooding
It was a day of triumph, cheers and collective relief as more than 160 students from 21 nations participated in the University of Delaware's Doctoral Hooding Convocation held Friday morning on The Green.
Participants work in teams, generating sponsorship funds in support of Cancer Care Connection's mission to help people on their cancer journey. The top walkers and fundraisers earn prizes at the end of the week.
This year's Walk Away From Cancer event also includes a number of exciting new features inspired by feedback from UD graduate students.
"Early this year, Cancer Care Connection was the focus of our Carol A. Ammon Case Competition among our graduate students and everybody benefited," said Jack Baroudi, associate dean for Graduate and MBA Programs in the Lerner College.  
During the March Case Competition, 10 teams of UD graduate students examined Walk Away From Cancer as a case study and offered strategies for the program's growth.  
"There's great value for our students in understanding both the challenges and successes of non-profit businesses," Baroudi added.
"The feedback was excellent and very deep," said Janet Teixeira, executive director of Cancer Care Connection. "We're thrilled to have such support from UD."
Cancer Care Connection cancer resource coach Jessie Hinman agreed, explaining that the feedback from the Case Competition presentations inspired a number of new features for Walk Away From Cancer, including a new logo.
"We heard a lot from the students that we need branding, we need up-to-date logos and we need to use them everywhere on social media," Hinman said.
The UD students also suggested a kick-off event at the beginning of the week, which this year will be held in Alfred Lerner Hall and will help to get participants excited about the week of activity ahead. Students were also behind idea to include prizes for top fundraisers, which is happening for the first time this year.
Other student suggestions implemented this year included a focus on participation from workplace groups, as well as ideas for connections that proved to be fruitful. 
These new supporters include the Wilmington Blue Rocks and popular chef and health advocate Christina Pirello. Pirello, who is also a past Case Competition judge, has donated cooking lessons and cookbooks to the top Walk Away From Cancer fundraisers.
"The Case Competition was good for us in so many ways," Hinman said. "It was a win-win for us because not only was it centered around Walk Away From Cancer, it also helped us think about Cancer Care Connection as a whole."
Hinman said that support from the Lerner College and the College of Health Sciences "help us spread the message that this event is local, and that we're here all year long to help anybody who is affected by cancer."
"We've enjoyed the opportunity to partner with Cancer Care Connection for the past three years," said Gina Porter, assistant to the dean of the College of Health Sciences. "The Walk Away From Cancer challenge gives our staff, faculty, and students a great reason to focus on getting up and moving."
"We as a University support Walk Away From Cancer because everyone involved benefits," Baroudi said. "The active focus is on our students in particular so we want to support and encourage their involvement."
More information on Walk Away From Cancer is available online or by calling 302-294-8555 or emailing wafc@can-connect.org.
Click here to register a team to participate in Walk Away From Cancer.