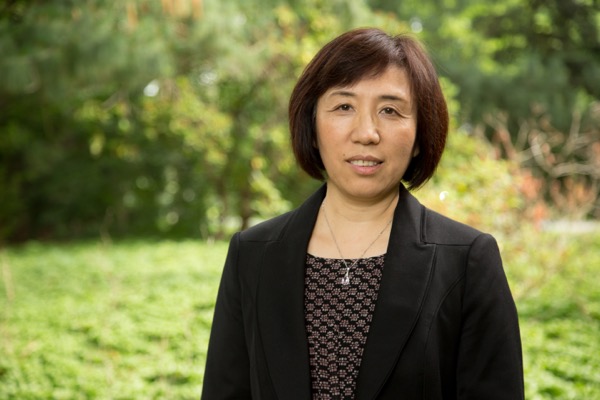 SSSA honors
UD's Yan Jin receives national society's soil physics award
11:55 a.m., Sept. 21, 2015--The University of Delaware's Yan Jin has been presented the 2015 Don and Betty Kirkham Soil Physics Award by the Soil Science Society of America (SSSA). 
The award is designed to recognize a mid-career soil scientist who has made outstanding contributions in the areas of soil physics and is supported by the Don and Betty Kirkham Fund established through the Agronomic Science Foundation and administered by the society.
National Medal of Science
President Barack Obama recently presented the National Medal of Science to University of Delaware alumnus Rakesh Jain.
Warren Award
Rosalind Johnson, assistant dean for student success in the NUCLEUS Program in UD's College of Arts and Sciences, was presented the John Warren Excellence in Leadership and Service Award during a May 26 ceremony.
The award was established in 1998 as a permanent tribute to Don Kirkham, regarded as the founder of modern soil physics, and his wife Betty, who inspired and supported him in an unparalleled and unselfish way.
Jin, professor in the Department of Plant and Soil Sciences with a joint appointment in the Department of Civil and Environmental Engineering, is the 18th award recipient and the first woman to receive the award. 
Jin will be presented with the award at the society's international annual meeting to be held in Nov. 15-18 in Minneapolis. 
"I feel very honored and also humbled," said Jin of the honor. "When I look at the list of past recipients, I see the people who have been instrumental in developing the soil physics field; some of them have been my personal inspiration and helped me tremendously during my career. I'm really grateful to them, and it feels a little unreal to be on that list." 
Jin's primary research at UD is in the general area of measurements, modeling and interpretation of contaminant fate and transport in porous media. 
In particular, she is internationally recognized for her work on colloid and microorganism transport in soils and groundwater. She was praised for her unusually comprehensive and intense focus on all of the underlying physical and geochemical processes controlling colloid and virus transport, and subsequent application of the research to practical soil and groundwater pollution problems. 
Her research includes theoretical and experimental ranging from the pore scale to laboratory column scale and beyond.
One of the major contributions of her research was being the first to quantify and examine the retention mechanisms of viruses in unsaturated systems. 
Subsequent studies have examined all the major factors and processes that control virus retention and transport in porous media, which led to the invention of a novel non-chlorine-based treatment technology for removing viruses and other pathogens from water using elemental iron.
The technology has been patented in the United States and Canada and has the potential to be adopted in various settings and for different purposes, such as in developing countries to provide safe drinking water and protect public health and in developed countries as an inexpensive alternative to more effectively remove viruses in a variety of treatment settings for drinking water. 
After receiving her undergraduate degree in soil science from the Hebei Agricultural University, China, Jin went on to get her master's degree in soil chemistry from New Mexico State University and then received her doctorate from the interdisciplinary environmental toxicology program at the University of California, Riverside. 
She joined the UD faculty in 1995 and has been actively engaged in research, teaching and service/outreach in her 20-year tenure at the University. 
She has provided leadership and services to SSSA and other scientific communities, including serving as associate editor for the Vodose Zone Journal and Journal of Environmental Quality. She was elected an SSSA fellow in 2008. 
With the United Nations declaring 2015 to be the International Year of Soils, Jin said she is glad to see the importance of soil being highlighted on a global scale. 
Article by Adam Thomas
Photo by Lindsay Yeager