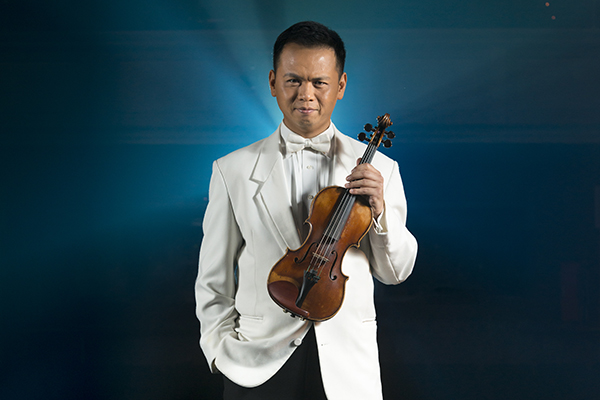 Master Players tickets
Season, single concert tickets available for 2015-16 Master Players series
8:37 a.m., Sept. 21, 2015--The Master Players Concert Series at the University of Delaware has announced that tickets are now on sale for the 2015-16 season.
Single tickets can be purchased online, by telephone or in person at the REP box office at the price of $25 for adults; $20 for seniors adults, alumni, faculty and staff; and $10 for students. The box office is open from noon to 5 p.m., Monday through Friday, in the Roselle Center for the Arts and can be reached at 302-831-2204.
From graduates, faculty
As it neared time for the processional to open the University of Delaware Commencement ceremonies, graduating students and faculty members shared their feelings about what the event means to them.
Doctoral hooding
It was a day of triumph, cheers and collective relief as more than 160 students from 21 nations participated in the University of Delaware's Doctoral Hooding Convocation held Friday morning on The Green.
The Juilliard String Quartet special event is excluded from this pricing, with each ticket priced at $50. 
Special $5 tickets for children ages 5 to 14 are available for the Holiday Pops concert on Dec. 5 and the Magic Flute concert on April 16, 2016. 
Information on how to purchase tickets can be found here.  
Season subscriptions are also available, with a five-concert subscription priced at $106 for adults; $85 for senior adults, alumni, faculty and staff; and $43 for students. A four-concert subscription priced at $90 for adults; $72 for senior adults, alumni, faculty and staff; or $36 for students. 
Subscriptions are only available for purchase by phone or in person at the REP box office. Subscriptions may not be purchased online and will not be available after Oct. 3. 
The Juilliard String Quartet special event and $5 tickets for children are not eligible for any subscription. Information on how to purchase subscriptions can be found here.
To avoid waiting after the concert, pre-paid parking vouchers are now available to all Master Players audience members.
Remaining tickets are sold 60 minutes prior to each concert. Also, $5 student rush tickets are sold 20 minutes prior to each concert for buyers with student ID in the concert hall lobby.
UD's commitment to excellence in arts
The season-opening concert, titled "Xiang Gao and Friends," will be held on Saturday, Oct. 3, at 5:30 p.m. in the Gore Recital Hall of the University's Roselle Center for the Arts.
This concert celebrates the 10-year anniversary of UD's acquisition of a violin by master Italian maker G.B. Ceruti, demonstrating its commitment to excellence in the arts.
Xiang Gao, UD Trustees Distinguished Professor of Music and an internationally recognized soloist, is the main beneficiary of the University's acquisition, performing on the instrument believed to have been made between 1787 and 1810.
 Since his arrival at the University in 2001, Gao has balanced his teaching and recruiting responsibilities with a demanding concert schedule, performing throughout the U.S., South America and Europe and in his native Asia. A reviewer in The New York Times described the violinist as "a rare and soulful virtuoso."
Gao describes the Ceruti as "not only a player's violin but also a collector's one." The Ceruti was purchased for $280,000 from Chicago's Bein and Fushi Inc., one of the world's premier violin dealers and restorers.
Gao has experience in the world of distinguished instruments. In 2007, the Stradivari Society in Chicago selected him Gao to be a recipient of world famous Stradivarius violins for his international solo concerts.
The "Lady Tennant" was crafted by Antonio Stradivari (1644-1737) in 1699 and, at the time, valued at more than $3 million. 
It was first played in Delaware by Gao on the closing concert of the Master Players Concert Series in May 2007. 
"This is one of the world's greatest instruments, and Xiang Gao is one the world's greatest young violinists," Suzanne Fushi, president of the Stradivari Society, said.
Gao added, "According to studies, famous Italian violins, including the wonderful UD Ceruti violin, are by far better investments than any stock or real estate to the investors and collectors. The Stradivari Society loaning these great instruments invested by patrons to soloists who are not able to afford them and to make the instruments available to the public audience also helps the instruments to appreciate in price."
After years of playing the beautiful Ceruti, Gao speaks of his appreciation to the University for the investment made. "Its acquisition showed the audience, the faculty and students that we at the University of Delaware have much passion for music and the arts."
The newly released 2015-16 Master Players brochure can be viewed here. Those with interest can also sign up for the Master Players email newsletter by visiting the website and clicking "sign up for e-updates".