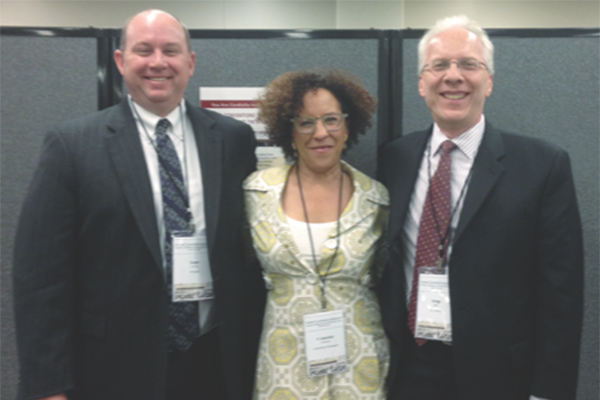 Historic agreement
Library announces historic agreement with Gale Cengage Learning, Colored Conventions Project
10:20 a.m., Sept. 3, 2015--The University of Delaware Library has announced an historic agreement between Gale, a global provider of research resources and part of Cengage Learning, and the Colored Conventions Project regarding the use of Gale's database, 19th Century U.S. Newspapers.
From graduates, faculty
As it neared time for the processional to open the University of Delaware Commencement ceremonies, graduating students and faculty members shared their feelings about what the event means to them.
Doctoral hooding
It was a day of triumph, cheers and collective relief as more than 160 students from 21 nations participated in the University of Delaware's Doctoral Hooding Convocation held Friday morning on The Green.
The agreement will allow the Colored Conventions Project to present images from its databases for use on its website, which brings six decades of 19th-century black organizing to digital life. 
Gale's 19th Century U.S. Newspapers is a rich online database that allows students and scholars to access thousands of American newspapers. With its inclusion of urban and rural, ethnic and mainstream papers, it is an essential resource. 
Gale's generous extension of its standard academic use license will allow the many visitors to the Colored Conventions website to enjoy online exhibits the project wouldn't otherwise be able to make available. 
"Gale's vision in response to the growth of the digital humanities marks its leadership in this arena and sets a model for other publishers," said Gregg Silvis, associate university librarian for Information Technology and Digital Initiatives. 
Through the Colored Conventions curricula adopted by the project's national teaching partners, more than 1,000 students across the country have been exposed to original database research as they work with primary documents.
"Colored Conventions embraces a wide variety of interdisciplinary participants and users: national teaching partners, undergraduate researchers, graduate student leaders and a host of library professionals," said P. Gabrielle Foreman, the project's faculty director and Ned B. Allen Professor of English and professor of Black American studies at UD. "We are particularly proud of our outreach to and collaboration with African Methodist Episcopal churches where so many early conventions were hosted. We are delighted to add Gale Cengage to that number as an important collaborator."
Launched in 1830, the Colored Conventions Movement brought once captive and already free blacks together in early state and national political conventions to strategize about how they could achieve educational, labor and legal justice. 
The delegates to these meetings included prominent writers, organizers, church leaders, newspaper editors and entrepreneurs in the canon of 19th-century African American leadership — and many whose names and histories have long been forgotten. 
All that is left of this decades-long effort are the minutes. Even these were rare or out-of-print until they were made available at the project's website.
"The minutes detail spirited debates in political arenas that reflect diversities of opinion across a markedly heterogeneous community," said Carol Rudisell, project member and librarian in the Reference and Instructional Services Department at the University of Delaware Library. 
The online site has generated a renewed interest in 19th-century black conventions as central to the understanding of campaigns for racial justice. Asking "where did delegates stay" and "who was in the audience," the project also re-centers women's roles in 19th-century black political organizing.
The project hosted the first symposium on the subject in April and honored Gale's Roger Strong, district manager for the Academic Market, at its luncheon. 
"This project displays the ways in which users can become active participants when engaging with historic materials. Colored Conventions, its national teaching partners and its wide variety of users empower students of history to become producers as well as consumers of knowledge," Strong said. 
With the help of Gale, the Colored Conventions Project site adds to a vibrant understanding of African American political activism over time and place and richly historicizes current interest in a highly diversified body politic.