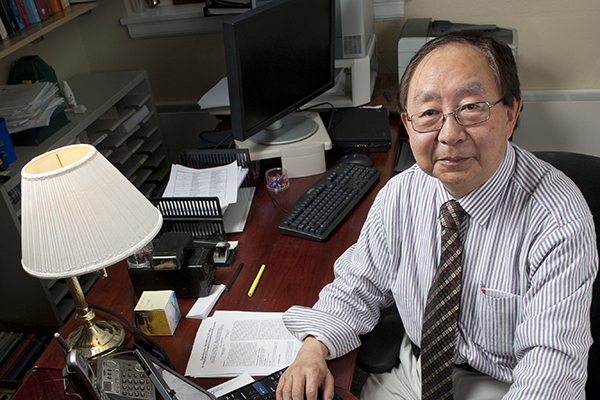 Global computing collaboration
Japanese government invites UD computing expert for extended visit
10:07 a.m., Sept. 24, 2015--On July 29, President Barack Obama issued an executive order launching the National Strategic Computing Initiative, a collaborative effort with industry and academia in the area of high-performance computing (HPC).
On Sept. 11, Guang Gao, Distinguished Professor of Electrical and Computer Engineering at the University of Delaware, flew to Japan, where he plans to spend several months sharing his expertise on data flow — an important foundation for HPC and big data.
Fulbright awards
Three University of Delaware students and an alumna have received word this spring that they will travel abroad as part of the newest class of Fulbright Student Program award winners.
Peace Corps plans
Two University of Delaware students, John McCarron and Bridgette Spritz, have been selected as Peace Corps volunteers and will serve in Ghana and Rwanda.
"The timing for my trip is perfect," he said a few days before departing for the extended visit.
Over the past 30 years, Gao has built a reputation as an international expert in dataflow technology, a software architecture based on the concept that changing the value of a variable should automatically force recalculation of the values of variables that depend on it. Dataflow makes implicit a significant amount of computation that has to be expressed explicitly in other programming models.
Gao started his work in dataflow as a doctoral student at the Massachusetts Institute of Technology in the early 1980s, taught at McGill University in Canada for several years, and then began establishing a critical mass of expertise in this area at UD when he joined the faculty in 1996. 
During the past two decades, his work has been supported by federal agencies and industries including the Defense Advanced Research Projects Agency (DARPA), the Department of Defense, the Department of Energy, the National Science Foundation, Intel, IBM, HP and other sources.
Gao has visited dozens of countries in Europe, Asia, and South America, and in 2012 he was selected to join TERAFLUX, a consortium of worldwide experts from the United States and Europe working to address HPC challenges based on dataflow technology.
A 'second spring' for data flow
Fifty years ago, Intel co-founder Gordon Moore said that the number of transistors incorporated in a chip would approximately double every 24 months. Over the decades, the so-called "Moore's Law" evolved into the more informal idea that computers get twice as fast every two years.
"About 10 years ago, Intel said 'no more' to this formula because chips had reached a point where they just could not get any faster — they had reached the 'chip wall,'" Gao says. "The computing community realized it was time for a new era of computer system design from chip architecture to software."
Gao's belief that the dataflow model has a new role to play in creating that architecture was recently corroborated when he received a one-sentence email from an international expert in parallel computing: "We are strong believers in the dataflow model."
HPC systems, through a combination of processing capability and storage capacity, can solve computational problems that are beyond the realm of small- to medium-scale systems. 
They are vital to breakthroughs in science, medicine, engineering, technology, and industry, and Gao's work on dataflow technology has been recognized as a critical link to progress in HPC.
"Prof. Gao has made field-changing contributions to the high-performance computing discipline," says Babatunde Ogunnaike, dean of the College of Engineering at UD. "He has established the University of Delaware as an internationally recognized leader in HPC."
Global problem, global partners
Despite his international reputation, Gao says his vision for the Japan visit is to play the role of grassroots facilitator rather than strategic leader.
"Everyone is looking for new technologies to solve the problem of the chip wall," he says, "and we need to work together to do that." 
He cites a recent article published in the July 2015 issue of Communications of the ACM, "Exascale Computing and Big Data," by Daniel Reed and Jack Dongarra, two world-class experts in this field. 
Gao shares the authors' view that the tools and cultures of high-performance computing and big data analytics have diverged, to the detriment of both, and he suggests that the dataflow model may provide a path to unification of the two, which is essential to addressing a broad spectrum of major research areas.
His visit to Japan is a starting point for sharing that vision with colleagues there and elsewhere in the world. In Japan, he plans to forge links with some of the 13 institutions in the country's Ministry of Education, Culture, Sports, Science and Technology (MEXT) Super Global Universities (SGU) program. 
He is being hosted at Waseda University by professors Shigeki Sugano and Hironori Kasahara. Waseda is one of just two private universities in the top 13 Japanese universities under the SGU program. 
"It is a great honor for the Waseda University SGU group to welcome Prof. Gao, a world-leading HPC and dataflow researcher, to Waseda University," says Kasahara.
Leaving a legacy
The path to Gao's Japan trip was paved by Starnes Walker, founding director of the University of Delaware Cybersecurity Initiative, who initiated relations between UD and the Japanese embassy.  
"We're in full support of Prof. Gao's grassroots approach via the SGU route, and we hope to see an international workshop on strategic computing grow out of President Obama's executive order," Walker says.    
Gao also has the support of UD Provost Domenico Grasso, as expressed in an email before the trip: "I am looking forward to working on enhancing U.S.-Japan relations and initiatives on innovative approaches to both education and cybersecurity."
According to Gao, Delaware "is in a great position to make a global contribution to high-performance computing and big data."
"The College of Engineering has been a leader in this work," he says, "but many others have contributed as well."
Article by Diane Kukich
Photo by Evan Krape