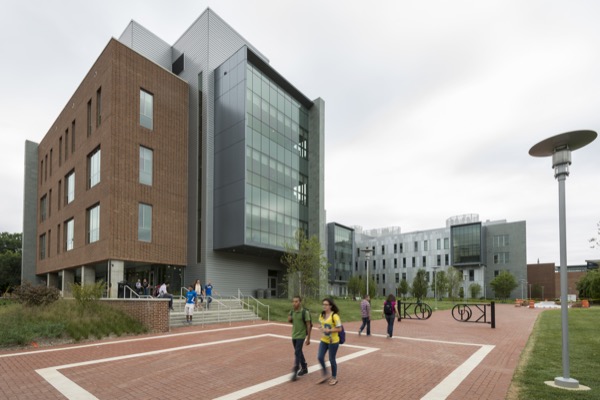 'Discover Delaware'
Lunchtime speaker series features diverse topics in education
1:57 p.m., Sept. 11, 2015--The University of Delaware's Interdisciplinary Science Learning Laboratories lunchtime speaker series begins Monday, Sept. 21, with a talk and photography show by visual storyteller Kholood Eid.
The weekly series, which is free and open to the public, is titled "Discover Delaware — Roots Rifts Reconciliation" and features diverse topics in education involving UD faculty and staff and experts from throughout the tri-state area. 
From graduates, faculty
As it neared time for the processional to open the University of Delaware Commencement ceremonies, graduating students and faculty members shared their feelings about what the event means to them.
Doctoral hooding
It was a day of triumph, cheers and collective relief as more than 160 students from 21 nations participated in the University of Delaware's Doctoral Hooding Convocation held Friday morning on The Green.
Sessions will be held from 12:30-2 p.m. on Mondays in Room 110 of the DuPont Science Learning Laboratories, the instructional wing of the Harker Interdisciplinary Science and Engineering Laboratory. Every week, each speaker will present a TED-style talk, followed by a discussion. 
Registration is required; to register or for more information, contact Kimberly Doucette at doucette@udel.edu. The first 30 attendees to register will be provided sandwiches and beverages.
The series is co-sponsored by the Office of Undergraduate Research and Experiential Learning and the Office of Service Learning. 
Following are the speakers and topics for fall semester:
Sept. 21 — Kholood Eid, Middle Eastern/Midwestern visual storyteller (talk and photography show), "Intersecting Parallels: The Identities of Arab and Jewish Women in Haifa, Israel."
Sept. 28 — Michelle Rodgers, associate dean and director, University of Delaware Cooperative Extension, "The Roots of Our Land-Grant Mission in Cooperative Extension"; and Troy Richards, associate professor and chairperson, Department of Art and Design, "Art Thinking."
Oct. 5 — Dan Rich, University Professor of Public Policy, School of Public Policy and Administration, "Strengthening Wilmington Schools"; and Debbie Hansen, education associate for visual and performing arts gifted programs, state of Delaware, "Creativity Across Curricular Disciplines." 
Oct. 12 — Gabrielle Foreman, Ned B. Allen Professor of English and professor of Black American Studies; Curtis Small, public services librarian, Special Collections, UD Library; and Syl Woolford, independent historian of Delaware black history, "Colored Conventions."
Oct. 19 — Gretchen Bauer, professor of political science and international relations, "Young African Leaders Engage UD and Delaware"; and Sue McNeil, professor of civil and environmental engineering, "Educating Engineers as Stewards of our Physical Infrastructure."
Oct. 26 — Julie McGee, curator of African American art, University Museums, and associate professor of Black American Studies, "Woodshedding and 'ReSoundings': Collaborating with Artists"; and Yael Haislip, program coordinator, UD ArtsBridge, "Building Bridges: Making Lasting Connections to Learning through Arts Integration."
Nov. 2 — Sue Serra, assistant director, Office of Service Learning, "Summer in the City: Service Learning Scholars in Wilmington"; and Jennifer Ferris, social studies and music teacher, First State Military Academy, Clayton, Delaware, "Interdisciplinarity and the Arts in the Social Studies Classroom." 
Nov. 9 — Colin Miller, director of global arts, College of Arts and Sciences, "Artists in Residency: Hosting Socially Engaged International Artists on Our Campus"; and Tony Middlebrooks, associate professor, Organizational and Community Leadership Program, School of Public Policy and Administration, "Developing the Next Generation of International Leaders: Immersion, Disequilibrium, Connection."
Nov. 16 — Jann Sutton, educational technology consultant, IT-Academic Technology Services, "Campus-Wide 3-D Printing Initiative."
Nov. 30 — Virginia Bradley, professor of art, topic to be announced later; and closing remarks by Nancy Targett, UD acting president.
Photo by Evan Krape