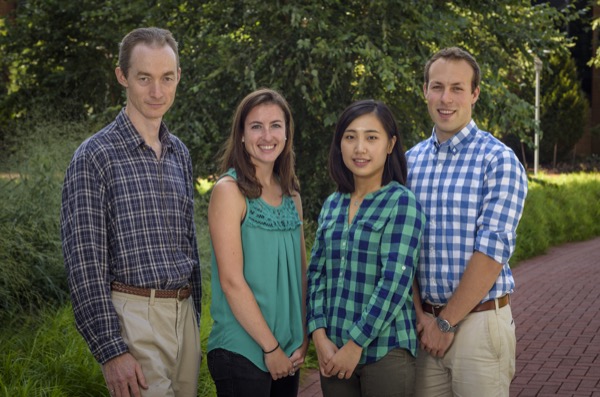 Environmental fellows
Four UD graduate students receive two-year fellowships from DENIN
11:22 a.m., Sept. 2, 2015--The Delaware Environmental Institute (DENIN) has announced its second cohort of DENIN Environmental Fellows. This fellowship program supports doctoral students whose research interests demonstrate a clear bridge between science and society.
The four recipients were selected based on their proposals for doctoral research that will benefit the environment in Delaware and beyond, as well as their demonstrated experience and commitment to communicating and transferring the benefits of their research to the wider world.
National Medal of Science
President Barack Obama recently presented the National Medal of Science to University of Delaware alumnus Rakesh Jain.
Warren Award
Rosalind Johnson, assistant dean for student success in the NUCLEUS Program in UD's College of Arts and Sciences, was presented the John Warren Excellence in Leadership and Service Award during a May 26 ceremony.
In addition to carrying out independent research, the DENIN Fellows function as a team for the two years of their fellowship, working together in ways that complement their primary academic programs. 
Along with the previous cohort selected in 2014, the fellows will lead a select number of DENIN events and activities each year, including outreach to the broader community.
"The Environmental Fellows program is one way that we're responding to what we've heard from our young scientists and students," said Don Sparks, director of DENIN. "They're looking for a more integrated approach to their work that allows them to interact with other fields and with those who will use their results to make decisions that improve the world."
The DENIN Fellows for 2015-17 include the following students:
Tobias Ackerman earned his bachelor's degree in civil engineering from the University of Delaware and is a Ph.D. candidate in geological sciences working with Jim Pizzuto, professor of geological sciences. He is a former dairy farmer and environmental engineering consultant whose experiences solving problems related to environmental quality and ecological services inspired him to continue his studies. Ackerman is now investigating how river sediment storage in floodplains creates time lags between changes in upland land use and downstream water quality.
As an undergraduate at Eckerd College, Corie Charpentier became interested in how environmental conditions impact animal behavior and physiology during an internship at the National Oceanic and Atmospheric Administration (NOAA). She has continued to pursue this interest in her doctoral studies with her adviser, Jonathan Cohen, assistant professor in the College of Earth, Ocean, and Environment, and is now investigating the implications of increasing ocean acidification on the daily vertical migration patterns of zooplankton and the aquatic food chain they support.
Jason Fischel's Ph.D. research is focused on the geochemistry of heavy metals and how the various forms of these metals in the environment influence their toxicity. In particular, he is examining how the most toxic form of chromium is released from soil into groundwater where it poses a health hazard to drinking water. A graduate of Juniata College, Fischel's research with his adviser, Don Sparks, will lead to innovative methods to remediate soil and groundwater contamination. In addition to directing DENIN, Sparks is S. Hallock du Pont Professor of Plant and Soil Sciences.
Originally from central China, Zhixuan Qin received her bachelor's degree from South China Agricultural University and her master's degree from the University of Florida. She is currently focusing on understanding phosphorus dynamics in agricultural soils with high phosphorus levels and working with her adviser, Amy Shober, associate professor in the Department of Plant and Soil Sciences, to evaluate best management practices for retaining soil phosphorus, thus lessening the need for fertilizer applications and preventing the runoff of phosphorus to waterways that leads to nuisance algal blooms.
More information about the DENIN Environmental Fellows program is available on the program webpage, including application information, video profiles of past recipients and information for prospective donors who wish to support the program.
About DENIN
The Delaware Environmental Institute (DENIN), founded at the University of Delaware in 2009, is an interdisciplinary incubator of research, knowledge and solutions specifically dedicated to safeguarding the environment and addressing environmental issues. 
DENIN provides academic, government and industrial partners broad access to experts from multiple disciplines in a collaborative effort to advance environmental science, promote environmental education and devise innovative, multidimensional strategies for environmental sustainability.
Article by Beth Chajes
Photo by Kathy F. Atkinson