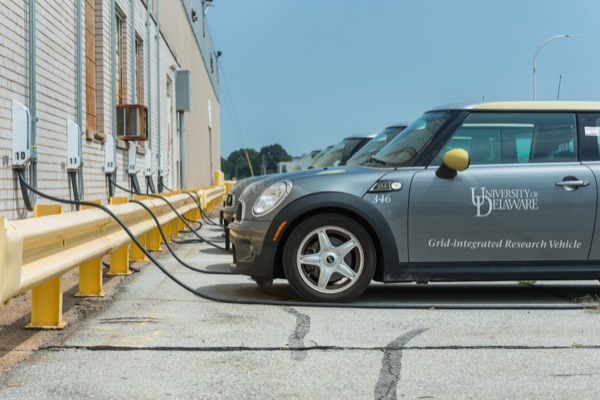 EV infrastructure improvements
Electric vehicle charging stations now operational statewide
10:47 a.m., Sept. 18, 2015--Motorists driving electric cars in Delaware now have access to a statewide network of electric vehicle (EV) charging stations. 
Under a collaborative partnership between the University of Delaware and the Delaware Department of Natural Resources and Environmental Control (DNREC) called "Charging Up Delaware," 11 new EV stations have been added at five locations throughout the state. 
June 6: UDid It! Picnic
All UD faculty and staff members are invited to attend the annual UDid It! employee appreciation picnic, set from 11 a.m.-1:30 p.m., Monday, June 6, on The Green.
2FA protects you
If you are using two-factor authentication (2FA), even if a hacker has your password, your information is probably safe.
This network of electric vehicle charging stations supports increased use of electric vehicles, which do not emit tailpipe pollutants or carbon dioxide, unlike their gasoline-fueled counterparts. In total, Delaware now has 21 locations that host charging stations for electric vehicles.
"Delaware's network of EV charging stations will support the use of electric vehicles, improve air quality, reduce greenhouse gas emissions and contribute to the state's goal of improving the health of Delawareans," said Gov. Jack Markell. "By strategically locating stations throughout the state, our citizens and out-of-state visitors now have convenient access to charge electric vehicles for both long and short trips."
"It's 96 miles from the northern tip of New Castle County to the southern end of Sussex County where the state of Delaware borders Maryland. Completing the Delaware network for electric vehicles traveling in or through the First State complements regional electric chargers clustered in metropolitan areas of the Mid-Atlantic region like Philadelphia and Baltimore," said Mohsen Badiey, acting dean of UD's College of Earth, Ocean, and Environment (CEOE).
The announcement comes during National Drive Electric Week, (Sept. 12-20), a nationwide celebration aimed at raising awareness of the advantages of all-electric and plug-in hybrid-electric cars, trucks, motorcycles and more.
Fast, easy, convenient
En route charging stations offer the easiest way for EV travelers to economically extend their trips. Now, even travelers driving electric vehicles with small batteries can go anywhere in the state, without fear of running out of power before reaching a charging station.
The most common electric vehicles require a charge every 70 to 130 miles; under worst conditions a recharge may be needed after 50 miles. Prior to the "Charging Up Delaware" project, electric vehicle drivers would have difficulty traveling from one end of Delaware to the other. With these new strategically placed charging stations, EV drivers can easily reach any corner of the state. 
The new charging stations are located, from north to south, at:
I-95 Welcome Center
Smyrna Rest Area
Bridgeville Royal Farms 
Cape May-Lewes Ferry Terminal 
Surfside Park – Rehoboth Beach
Locations for the stations were selected based upon proximity to and ease of access from the nearest through-route, and on activities available during charging, such as dining, recreation and shopping. For a map of EV stations located in Delaware, visit Plugshare.com. 
Recharging interest, gaining speed
Sales of electric cars topped 123,000 nationwide in 2014, according to research from InsideEvs.com, and Delaware is poised to expand sales within the state. 
"The "Charging Up Delaware" network of EV stations are convenient for en route charging, use the standard US plug that works on any EV, and can charge quickly through the standard EV plug," said Willett Kempton, professor in the School of Marine Science and Policy in UD's College of Earth, Ocean, and Environment and research director of the University's Center for Carbon-Free Power Integration
"This innovative partnership with the University of Delaware is another step forward in our efforts to encourage the wider use of electric vehicles that benefit Delawareans with reduced environmental and public health impacts and decreased greenhouse gas emissions that contribute to climate change," said DNREC Secretary David Small. "With our recent announcement of clean vehicle rebates through the Delaware Clean Transportation Incentive Program, the announcement of this network of electric charging stations comes at a most opportune time."
The Delaware Clean Transportation Incentive Program offers rebates on the purchase or lease of new or retrofitted battery or plug-in hybrid electric vehicles, as well as dedicated propane and natural gas-powered vehicles. 
"Linking universities with government efforts to provide solutions that help citizens embrace clean energy technology is a key part of our college's strategic focus. Basing solutions on scientific data provides decision-makers with sound information as they consider efficient investments in green and renewable energy," Badiey said.
The researchers anticipate having a one-year data usage report of the stations in the network by mid-2016. The data will provide important information about the overall usage of the networks and the stations.
Funding for the electric charging stations was made possible by Delaware's participation in the Regional Greenhouse Gas Initiative (RGGI), a market-based cap-and-trade program designed to reduce carbon dioxide and greenhouse gas emissions from the electricity generation sector. 
About UD's College of Earth, Ocean, and Environment
UD's College of Earth, Ocean, and Environment (CEOE) strives to reach a deeper understanding of the planet and improve stewardship of environmental resources. 
CEOE faculty and students examine complex information from multiple disciplines with the knowledge that science and society are firmly linked and solutions to environmental challenges can be synonymous with positive economic impact. 
The college brings the latest advances in technology to bear on both teaching and conducting ocean, earth and atmospheric research. Current focus areas are ecosystem health and society, environmental observing and forecasting, and renewable energy and sustainability
About DNREC Division of Energy and Climate
The DNREC Division of Energy and Climate's mission is to serve the people of Delaware by reducing the adverse impacts of energy use on our environment, health and economy. The division leads statewide climate change mitigation and adaptation programs, provides grants for energy efficiency and clean fuel technology, supports energy policy development and provides coordination and assistance on sustainable land use and building practices. For more information, visit www.dnrec.delaware.gov/energy.