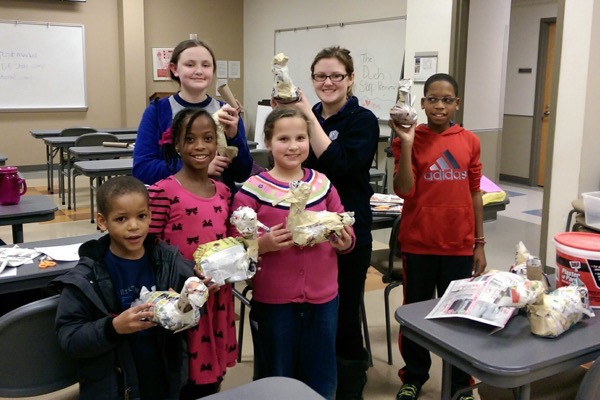 Stamp art
Sounding a duck call to join 4-H junior waterfowl stamp club
1:38 p.m., Sept. 25, 2015--The 4-H Junior Duck Stamp Club, based in Newark, welcomes Delaware youths ages 8-19 to become members and to participate in associated learning activities held throughout the year.
"Our 4-H club uses art and STEM (science, technology, engineering and mathematics) activities to increase youth interest in and understanding of wetland and waterfowl conservation," said Autumn Starcher, organizational leader.
'Resilience Engineering'
The University of Delaware's Nii Attoh-Okine recently published a new book with Cambridge University Press, "Resilience Engineering: Models and Analysis."
Reviresco June run
UD ROTC cadets will run from New York City to Miami this month to raise awareness about veterans' affairs.
She added, "We use resources from the Federal Junior Duck Stamp curriculum as well as nature field trips and art workshops to engage the participants in hands-on experiential learning." 
The Federal Junior Duck Stamp Program is a national conservation effort supported by the U.S. Fish and Wildlife Service.
One of the capstone goals of the 4-H club is for youths to create artwork that will be entered in a statewide competition and possibly placed in consideration for the next national Federal Junior Duck Stamp. 
A successful art submission will feature a waterfowl species behaving in its natural habitat. Proceeds from the stamp are used to conserve habitat for waterfowl.
The 4-H Junior Duck Stamp Club meets monthly at the University of Delaware Cooperative Extension New Castle County office at 461 Wyoming Road in Newark. In addition to the regularly scheduled meetings, members participate in an art workshop in February 2016. 
Non-4-H members may join club members in attending in Delaware 4-H's Science Saturday field trips, such as a trip to Mallard Lodge scheduled on Nov. 7.
In addition to the federal support, the club is supported by grants from the Delaware 4-H Foundation, which provides additional resources and county wetland and wildlife learning kits. Club resources, which include duck calls and decoys, and learning kits can be loaned to other interested groups wishing to learn more about waterfowl and wetlands. 
There is no cost to join the 4-H Junior Duck Stamp Club. The 4-H Science Saturdays and field trips are open to 4-H members and non-members for a cost of $10. A Winter Art Workshop, scheduled for Feb. 13, 2016, will have a small cost for materials.
For a detailed list of activities, club meeting dates and enrollment and registration information, see the website or contact Autumn Starcher at starcher@udel.edu.