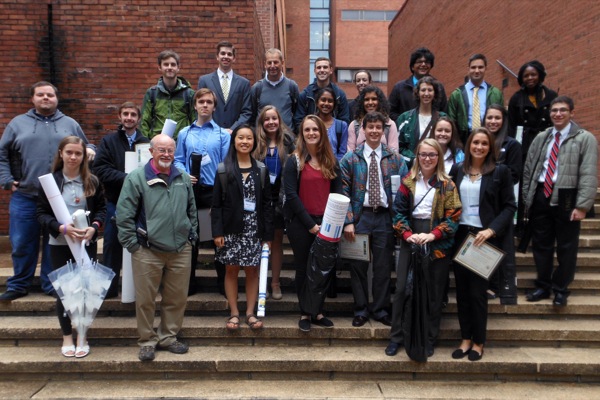 Research symposium
UD undergraduate researchers in the chemical and biological sciences excel at UMBC Symposium
6:03 p.m., Oct. 6, 2015--Twenty-eight University of Delaware students competed in the 18th annual Undergraduate Research Symposium in the Chemical and Biological Sciences at the University of Maryland, Baltimore County (UMBC) on Saturday, Oct. 3. More than 300 students from 55 colleges and universities in 20 states competed in the event. 
As in past years, Delaware students did very well, receiving nine first-place and six second-place awards in the 23 groupings in which they were placed. 
Chronic wounds
UD's Millicent Sullivan and Kristi Kiick have received a $1.4 million grant from the National Institutes of Health for research that could provide a new approach to the treatment of chronic wounds.
Prof. Heck's legacy
The American Chemical Society is highlighting the legacy of the late Nobel laureate Richard Heck, the Willis F. Harrington Professor Emeritus of Chemistry at the University of Delaware with a digital tribute on its publications website.
Two students were repeat winners from previous years. Thomas Keane, a senior chemistry major working with Joel Rosenthal, received a first-place award for the third year in a row. His poster was titled "Effects of Solvent on the Ionic Liquid-Mediated Electrochemical Conversion of CO2 to CO at a Bismuth-Based Electrode." Hannah Wastyk, a junior biochemistry major working with Catherine Leimkuhler Grimes, received a first-place award for the second time. Her project was titled "Biochemical Characterization of the Interaction between an Innate Immune Receptor Nod2 and its Chaperones."
Other first-place award winners this year and their research supervisors were: Joshua Barton (Salil Lachke, biological sciences), Nathaniel Borders (Lachke), Kelly Daniels (Neal Zondlo, chemistry and biochemistry), Cannon Giglio (Steven Brown, chemistry and biochemistry), Morgan Thomas (Erica Selva, biological sciences), Nicole Wenzell (Zondlo), and Michael Wilson (Randall Duncan, biological sciences).  
Second-place awardees included Nile Bunce (Kristi Kiick, material science and engineering), David Chiat (Alenka Hlousek-Radojcic and Anne Terrell, biological sciences and Harker ISE Lab), Priyah Mahesh (Melinda Duncan, biological sciences), Tyler McCann (Jia Song, biological sciences), Taylor Paskey (Rosenthal) and Genevieve Weist (Zondlo).
Other students presenting their research included: Jessica Bursler (Trevor Daily, Harker ISE Lab), Robert Cipolla  (Maciek Antoniewicz, chemical and biomedical engineering), Jake Fiumara (Deni Galileo, biological sciences), Michelle Hallenbeck (Dara Ruiz-Whalen, Fox Chase Cancer Center), Amelia Harrison (Steven Archer, Bigelow Laboratory for Ocean Science), Pragyan Khanal (Eleftheros Papoutsakis, chemical and biomedical engineering), Amy Nellis (Prasad Dhurjati, chemical and biomedical engineering), Jasmin Philip (Sharon Rozovsky, chemistry and biochemistry), Troy Rubenstein (M. Duncan), Nazanin Sarpoulaki (Robin Morgan, animal and food sciences), Blair Schneider (Carl Schmidt, animal and food sciences), Jesse Spillane (Don Watson, chemistry and biochemistry), and Jay Subramoney (Rozovsky).
The students were accompanied by eight UD faculty: Jacqueline Fajardo and Hal White from chemistry and biochemistry, and Carlton Cooper, Gary Laverty, Robin Morgan, Ben Rohe, Florence Schmieg and David Usher from biological sciences. UD faculty served as judges of posters presented by students from other colleges.
The UD Howard Hughes Medical Institute's Undergraduate Education program, which ended in August this year, has sponsored trips to the UMBC Symposium since 2007 and has supported undergraduate researchers in faculty laboratories since 1993. According to Hal White, who has directed UD's HHMI program since 1998, other sources of funds will need to be found to continue participation in activities like the UMBC Symposium and undergraduate research. He noted that 12 of the UD undergraduate students presenting posters at UMBC this year did research in faculty laboratories as HHMI scholars. "It worries me," he said, "that one of the center pieces of UD's highly regarded STEM undergraduate research program will disappear without other resources to replace it."
To read about past UD participation in the UMBC Symposium, see the following links: 2008, 2009, 2010, 2011, 2012, 2013, 2014.