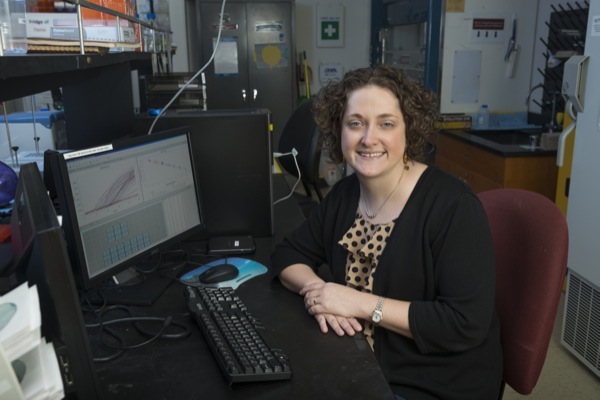 Mangone Scholar
Neuroscientist Tania Roth receives 2015 award from Francis Alison Society
8:59 a.m., Oct. 15, 2015--Tania L. Roth, assistant professor of psychological and brain sciences at the University of Delaware, has been selected by the University's Francis Alison Society to receive the 2015 Gerard J. Mangone Young Scholars Award.
The award recognizes promising and accomplished young faculty. The recipient is chosen by fellow faculty members who have received the Francis Alison Award, the University's highest competitive faculty honor.
National Medal of Science
President Barack Obama recently presented the National Medal of Science to University of Delaware alumnus Rakesh Jain.
Warren Award
Rosalind Johnson, assistant dean for student success in the NUCLEUS Program in UD's College of Arts and Sciences, was presented the John Warren Excellence in Leadership and Service Award during a May 26 ceremony.
Roth is described as "a prolific and gifted young scientist and scholar whose work has already changed the history of the diverse fields that she serves," in a letter to the Alison Society from Robert F. Simons, professor and chair of the Department of Psychological and Brain Sciences, and Mark E. Stanton, professor and director of the department's behavioral neuroscience program.
The letter summarizes her "exceptional scholarship and productivity" beginning as a graduate student when she was lead author of a chapter in a prestigious book series, Advances in the Study of Behavior. 
Roth, a behavioral neuroscientist, studies what happens to the brain when stress occurs early in life, exploring how that experience can cause molecular changes to DNA. She works in the area of behavioral epigenetics, or the study of specific molecular modifications that change gene expression and produce short- and long-term effects on physiology and behavior.
Using a rodent model, Roth studies the mother-infant interaction and effects of maternal maltreatment, investigating the relationship between environmental experiences and lifelong patterns of gene expression and behavior.
She has investigated the neurobehavioral basis of infant attachment to an abusive caregiver and has been part of a national consortium of researchers seeking to better understand posttraumatic stress disorder.
In 2010, Roth was first author on important publications in the new field of behavioral epigenetics and found that adverse maternal care alters the expression of a gene that plays a key role in brain development. 
"This discovery, and Tania's extensions of it in her laboratory here at the University of Delaware, represents a historical turning point in her field," Simons and Stanton wrote, calling it "an exceptional achievement." They also cited her enthusiasm and effectiveness as a teacher and laboratory mentor for numerous undergraduate and graduate students.
Roth has participated in brain awareness events and given lectures across the United States. Her work has been featured in numerous media outlets including The Scientist, Psychiatric News, Nature News Feature and Science magazine.
Earlier this year, she received an Early Career Impact Award from the Federation of Associations in Behavioral and Brain Sciences (FABBS) Foundation, after a nomination by the International Society for Developmental Psychobiology. 
She was selected as a recipient in recognition of her "major research contributions to the sciences of mind, brain and behavior," FABBS said.
About the award
The Mangone Young Scholars Award is named in honor of the late Gerard J. Mangone, who joined the UD faculty in 1972 and created the UD Center for the Study of Marine Policy, renamed in his honor in 2003.
Dr. Mangone, University Research Professor in the College of Earth, Ocean and Environment, received the Francis Alison Award in 1983. In 2010, he received an honorary degree from UD. He died on July 27, 2011.
Article by Ann Manser
Photo by Evan Krape