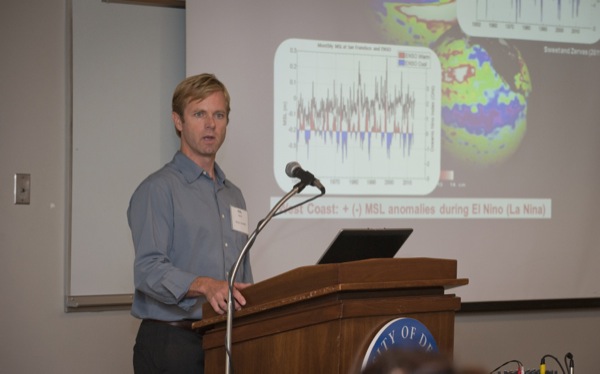 Coastal flood workshop
UD, organizations collaborate to improve Mid-Atlantic coastal resiliency
7:48 p.m., Oct. 7, 2015--Sea-level rise, dissipating dunes and susceptibility to storm surges are a few of the factors that contribute to a vulnerable coast. A coast at risk means an increased potential for damage to coastal communities and ecosystems in the event of tropical systems, nor'easters or other damaging weather.
More than 40 experts representing state and federal agencies and regional universities gathered to discuss these and other important issues during the Coastal Flood Research, Modeling and Monitoring Workshop on Sept. 16.
'Resilience Engineering'
The University of Delaware's Nii Attoh-Okine recently published a new book with Cambridge University Press, "Resilience Engineering: Models and Analysis."
Reviresco June run
UD ROTC cadets will run from New York City to Miami this month to raise awareness about veterans' affairs.
The workshop, held at the University of Delaware's John M. Clayton Hall, was co-hosted by the University of Delaware, Delaware Sea Grant and the Mid-Atlantic Coastal Resilience Institute.
Mohsen Badiey, acting dean of UD's College of Earth, Ocean, and Environment (CEOE), welcomed attendees to the event, saying, "Our focus today is a combination of observation, modeling and monitoring [of the coast]."
"This workshop brings together experts involved in all phases of coastal flooding research," said Dan Leathers, professor of geography at UD, Delaware's state climatologist and a co-coordinator of the workshop. "The goal is to facilitate cooperation and collaboration between these agencies concerned with the coastal environment."
Coastal resiliency is a term that encompasses not only the physical status of the coast, like the efficiency of natural systems such as beaches, sand dunes and wetlands, but also restoration efforts involved in coastal adaptation and facilitating community preparedness strategies. 
Agencies involved in this type of work include the National Oceanic and Atmospheric Administration (NOAA), the U.S. Army Corps of Engineers (USACE), NASA Wallops, the Federal Emergency Management Agency (FEMA) and the U.S. Geological Survey, among others. But academic institutions play an important role, too, in research and educational tools to address community issues. 
The workshop consisted of two sessions with various guest speakers: the first on coastal flooding research and analysis, and the second on coastal flood monitoring and early warning system initiatives. Breakout group discussions enabled attendees to network and share ideas for collaboration. Topics included research questions needed to be asked regarding improved resiliency to coastal flooding in the Mid-Atlantic and identification of Mid-Atlantic coastal flooding analyses and resources.
The morning session consisted of presentations with topics ranging from storm surge forecasting in the Mid-Atlantic to modeling and mapping coastal flood risk. Risk identification and hydrodynamic modeling also were addressed.
In the afternoon, participants learned about early warning system initiatives like rapidly deployed sensor networks, high-resolution overland inundation forecasting and data used for coastal flood advisories. John Callahan, a UD research scientist with the Delaware Geological Survey, shared the Delaware Coastal Flood Monitoring System, a web-based tool and alert system designed to provide emergency information to the state, county and emergency management personnel about upcoming coastal flood conditions.
In his keynote address, William Sweet, NOAA oceanographer with the Center for Operational Oceanographic Products and Services, discussed the effects of sea-level rise on coastal flooding. In particular, Sweet addressed the effects of repetitive loss from coastal flooding, relative sea-level rise and nuisance flooding.
As coastal erosion persists, he said, smaller storms will cause coastal communities to experience perpetual nuisance flooding.
"As sea level rises, it takes less of a storm to cause an impact, [meaning that] the extreme has become the mean," Sweet said. 
The efforts and ideas of those in attendance at the workshop will culminate in a white paper documenting the ongoing efforts in coastal flood monitoring and modeling across the Mid-Atlantic and opportunities for collaboration, like coordinated research projects and funding support via MACRI or applied research with Delaware Sea Grant. An outline of consensus opinions from the researchers in attendance on future directions for coastal flood modeling and monitoring, which will provide smaller scale modeling and more accurate flood risk diagnostics, will also be included.
Through shared and collaborative research on subjects such as coastal geology, inundation projects, different levels of impact delineation and ecosystem mapping, Mid-Atlantic coastal researchers aim to be better equipped for future littoral issues.
"As evidenced over the last week, coastal communities throughout the mid-Atlantic region are extremely vulnerable to flood impacts from coastal storms, both nor'easters and tropical systems such as Hurricane Joaquin," said Wendy Carey, a coastal processes and hazards specialist with the Delaware Sea Grant. 
"Strengthening collaborations among agencies, organizations and academic communities that ultimately will integrate resilience into local, state and regional policy planning initiatives is a critical step towards mitigating future risks and coordinating storm response."
About Delaware Sea Grant
The University of Delaware was designated as the nation's ninth Sea Grant College in 1976 to promote the wise use, conservation and management of marine and coastal resources through high-quality research, education and outreach activities that serve the public and the environment. UD's College of Earth, Ocean, and Environment administers the program, which conducts research in priority areas ranging from aquaculture to coastal hazards.
Article by Cody Harrington